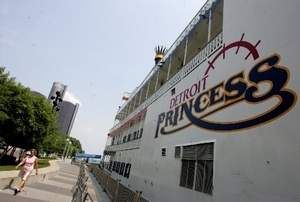 A woman who was on the Detroit Princess riverboat went to her car after getting on shore, retrieved a gun and opened fire early Monday, hitting four of her relatives and friends, officials say.
Another family member who wasn't on the boat returned fire, critically injuring the shooter's boyfriend as they were driving away.
Officials with the Detroit Princess say the shooting occurred around 1:15 a.m. on the shore near the boarding area behind Joe Louis Arena. An employee of the Detroit Princess was also shot in the foot and required two stitches, said Chris Clarke, general manager of the Detroit Princess.
The altercation apparently began with an argument aboard the boat, Detroit Police Sgt. Alan Quinn said. Relatives of those involved were separated by security, Clarke said.
Quinn said six of the seven victims suffered minor injuries.
"It's unfortunate for the 99% that were just to have a great time...for this group to spoil it," Clarke said.
Radio One Detroit's station Hot 107.5, which plays hip hop and rap, was hosting the On Deck Sunday Moonlight Cruise. The event is touted on the boat's Facebook page as a nightclub atmosphere on a cruise from 10:30 p.m. to 12:30 a.m. The Detroit Princess also provides a deejay for the cruise, playing softer music on the boat's top deck.
Detroit Princess owner and Capt. John Chamberlain said everyone who boards the boat - about 500 for Sunday's cruise - is checked for weapons. He's operated riverboats for 35 years and said it was the first time a shooting has occurred near one of his boats.
Keith Gillespie, the assistant promotions director with Radio One Detroit, was just getting off the boat when the shooting happened. He said he ran back onto the riverboat and shut the door until the gunfire stopped.
"As I was walking out the door, I heard some commotion with some women and gunshots rang out," Gillespie said.
Gillespie immediately called a Detroit Police officer who is a friend and was patrolling nearby.
"It was real scary because people started running in every direction," he said.
Gillespie opened the door when one of the victims started knocking loudly, yelling he'd been hit, he said.
When the shooting ended, they discovered three women lying in the grass with wounds to their legs. He and others used tablecloths from the boat to hold pressure on the women's wounds.
No arrests had been made in connection with the shooting Monday evening, police said.
Anyone with information can call Detroit Police investigators at 313-596-5240 or Crime Stoppers anonymously at 1-800-SPEAK-UP.