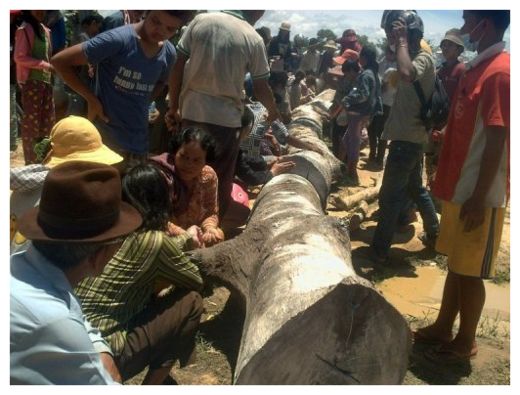 A large log dug up in Cambodia has drawn thousands of visitors who believe it possesses healing powers and can predict winning lottery numbers, a local official said Thursday.
Some 4,000 to 5,000 people have already been to see the 13-metre-long log (42 feet) that was discovered earlier this month when a family excavated a pond in western Pursat province, Prey Yeang village chief Hun Nov told AFP by phone.
"They believe the log has magical powers," he said, adding that visitors were coming loaded with offerings such as pig heads and boiled whole chickens after some locals who touched the wood won money in the lottery.
"At least one hundred people a day visit the log to ask for lottery numbers and to cure their illnesses," he said. "They believe in superstition."
Cambodians are highly superstitious, particularly in the countryside where people continue to merge animist practices with Buddhism.
Hun Nov said some believers rubbed talcum powder onto the wood, hoping to see lucky lottery numbers, and others drank water from the pond and smeared nearby mud onto their bodies in a bid to cure their ailments.
While the village chief himself is not convinced of the log's powers, "We, the authorities, have no right to stop them," he said.