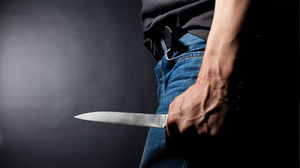 The recent home invasion and vicious attack on a lesbian woman in Lincoln, Nebraska is being described by the Human Rights Campaign as "truly horrific." The LBGT rights organization is calling on federal authorities to investigate the alleged hate crime.
CNN reported
that three masked men allegedly broke into the 33-year-old woman's home early Sunday morning, tied her up, and carved words into her arms and stomach with a knife. One of the words
included the derogatory slur "dyke."
The men also spray-painted anti-gay graffiti inside the home and set the house on fire. Police said the fire did little damage.
The woman fled bound, naked and bleeding to her neighbor's house.
"I was in shock," the woman's neighbor told CNN. "She was naked, her hands were tied with zip ties. All I could see was a cut across her forehead and blood running down."
She was taken to a local hospital, where she was treated for her injuries.
"We have confidence that the Lincoln Police Department will thoroughly investigate this crime and take swift and appropriate action to bring the perpetrators to justice," said HRC Vice President of Communications Fred Sainz. "No one should ever have to live in fear simply because of who they are. Our thoughts are with the victim and we wish her a full recovery. This act of violence is a jarring reminder that we have much work to do in creating environments where all members of our community feel safe living honestly and openly, and where crimes motivated by one's sexual orientation or gender identity are never tolerated."
Matthew Shepard and James Byrd, Jr. Hate Crimes Prevention Act, which was enacted in October 2009, gives federal authorities jurisdiction over some hate crimes. Local police have not made any arrests in connection with the incident, but said they have "multiple detectives" working on the case.
Following the brutal attack, about 500 people
held a vigil
in the state's capitol on Sunday afternoon.