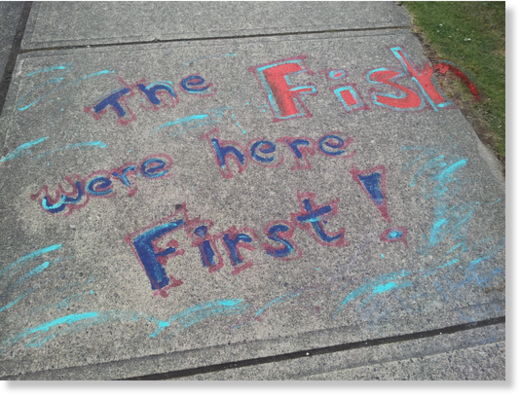 Canada, British Columbia - Vancouver based street Artist Wil D. Salmon was arrested and unlawfully detained by Port Moody Police yesterday just after completing a street art project in the City. The artist said that he was exercising his charter right and was using his creative skills to highlight the destruction of fish habitat on a public sidewalk.
The words "The Fish were here first" appear on the sidewalk next to a skate park at Rocky Point Park in Port Moody. After finishing the work and walking away the artist says he was later apprehended and surrounded by four police officers he was handcuffed, searched and threatened with jail.
"I was told that I was being arrested for mischief and obstruction of justice for failing to provide my name. I believe the arrest to be unlawful, intimidating and unnecessary. The police mentioned that they had brought a Fire Truck to remove the artwork and because they weren't able to remove it, they now had reason to confront and arrest me." stated the artist.
The whole incident was witnessed by local youth at the rotary club skate park. One youth mentioned that the Fire Truck spread so much water that the skate park was filled with water and no one could do anything.
"When I mentioned that I was exercising my charter rights, the officer said I was wrong and that I was engaging in a criminal act and it was their duty to track me down and investigate. I also mentioned that the lands were unceded Coast Salish Territories, one officer said that my facts were wrong. He later stated that my ignorance of the law was analogous to mass murder and sex offender
Jeffrey Dahmer
. It was clear that they wanted to intimidate me. I feel there was some racial bias, I am dark skinned and was wearing a bandana. They searched my bag looking for drugs"
The artist was released after 30 minutes, the police said that they will continue to investigate and will consult with the City on whether to pursue a formal charge.
Ironically,
Port Moody
calls itself "City of the Arts"