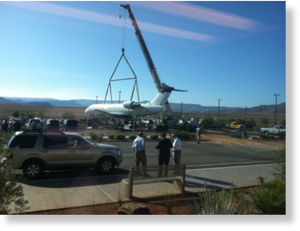 Utah - The St. George Airport was closed Tuesday following an incident involving a SkyWest plane.
Details about the incident remain sketchy.
"While the airport was closed overnight, a SkyWest aircraft at the St. George Municipal Airport in Utah was involved in a ground incident while the aircraft was not in service,"
SkyWest said in a brief prepared statement. "Until the airport is reopened, passengers with Delta Connection flights to and from St. George are being re-accommodated on other flights as well as with ground transportation from nearby Cedar City."
The terminal at the
St. George Airport
sustained minor damage and vehicles in the parking lot were also damaged as well as a SkyWest plane, according to St. George spokesman Mark Mortensen.
The FBI and St. George police are investigating the incident.
"The FBI is on scene at the St. George Airport, along with St. George police and the TSA. We are conducting a joint investigation. We are still gathering facts, but it is important to note there is no ongoing public safety issue and the scene is under the control of law enforcement," FBI spokeswoman Debbie Bertram said.
Mortensen said all commercial flights were cancelled until further notice. He said the private portion of the airport was still open. The St. George Airport handles seven flights a day.
The incident reportedly started about 3 a.m.
Additional details will be posted as they become available.