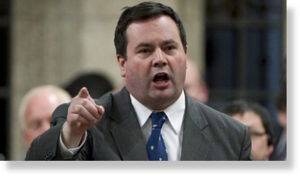 Canada, Edmonton - A protester who made it into a Conservative party barbecue in Edmonton says he was dragged out of the event and arrested by police when he tried to ask Immigration Minister Jason Kenney a question.
Bashir Mohamed, 17, planned to confront Kenney about the federal government's cuts to refugee health care.
Mohamed says he was born in a refugee camp in Kenya and came to Canada with his parents when he was three.
He said he stood up and began to ask a question while Kenney was speaking, but was quickly grabbed by four men who pulled him outside.
He says police arrested him, but he was later released without charges.
"The police were very nice. They just wanted to figure out what was going on. I have nothing against the police," Bashir said shortly after he was released.
Steven Dollansky, the president of the Edmonton Centre Conservative Association and a member of the group that organized the barbecue, explained that the protester was removed because he interrupted the minister in the middle of his speech.
"He stood up and screamed at the minister during his speech. That was not the appropriate time to speak and he was asked to leave," Dollansky said.
Dollansky said there was some physical contact as the protester was removed, but he said it was difficult to avoid in such a situation.
The event, attended by close to 400 people, was held Saturday evening inside a hangar at the Alberta Aviation Museum.
Mohamed, wearing a tie, said he got in by buying a $40 ticket in advance to the barbecue. He said he posed as a young conservative and ate with the rest of the attendees while he waited for Kenney to speak.
He said he stood up as Kenney was speaking and began to explain that he'd come to Canada as a refugee, but he said it wasn't long before he was grabbed and led out. He said he shouted, "Jason Kenney is killing compassion with his health care cuts," as he was pulled outside. He said he fell along the way, but wasn't hurt.
The people who pulled him outside, he said, told him he'd be charged with assault.
"I was expecting I'd be charged with mischief. I was shocked when they said assault because I didn't assault anyone," said Mohamed.
The policy, which strips refugee claimants of access to pharmaceutical, dental and vision coverage and also limits other forms of coverage, was announced in April and is projected to save the government $20 million a year for the next five years.
Originally, it divided refugee claimants into two groups based on the status of their claim and country of origin. Neither would receive extended benefits.
Those whose claim is rejected or who are from a yet-to-be defined list of countries would only receive health care if there was a public health or safety risk.
The government has since amended the policy to provide for a third group of refugee claimants who are covered by a federal program that provides financial and other assistance.
They will receive the extended benefits as long as they are covered by that program.
As people arrived for Saturday's barbecue, about two dozen demonstrators sold lemonade at a makeshift stand outside the museum. The price of a cup was 59 cents, which the group said is what it would cost per Canadian to end the cuts to refugee health care.
The stand was kept away from the entrance, so Kenney's arrival wasn't noticed by the demonstrators. His car pulled up to the museum entrance and he entered the venue without a confrontation.
Dollansky said the museum called police to the scene after the demonstrators twice refused requests from the facility's director to move to the edge of the property.