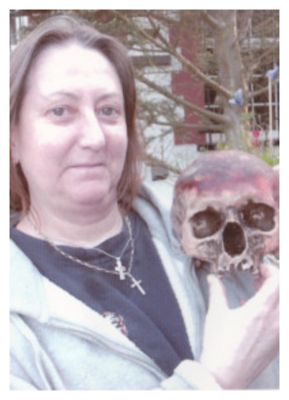 A suspected human skull found in a river by a Hapton couple out walking their dogs in May was an elaborate hoax.
Police said forensic experts initially thought the skull belonged to a man but when they tried to subject it to carbon dating, they realised it was a fake.
Further chemical tests confirmed that it was an elaborate replica of a skull belonging to an Aboriginal man.
The fake skull even had a fracture which had healed, incision marks suggesting a pre-death operation and signs of a significant infection around the nose and mouth.
It was initially handed to police by Mr and Mrs Mick and Elaine Bell, of Valley Gardens, who had been walking their dogs near to a shallow section of water which flows through Spa Wood, between Burnley Cemetery and Hapton Colliery.
Det. Sgt Charlie Haynes, of Burnley CID, said that it had been cast from an original skull.
"A visual examination of photographs by the anthropologist indicated that the skull was that of a human male," he said.
"Given the close proximity to the colliery and the cemetery this was not surprising, and a number of theories emerged including the possibility that the skull had been washed away from the rear of the cemetery by the recent heavy rain, or had been washed out of the colliery having been the remains of a miner who had died there prior to the 1962 disaster.
"The skull became more fascinating when scientists told me that they were struggling to date the item through the carbon dating process and suggested that the skull may be fossilised.
"Also the pathology on the skull included a fracture which had healed, incision marks indicating a pre-death operation and also signs of a significant infection around the nose and mouth.
"Finally, the features of the skull were those of an Australoid, i.e. Australian Aboriginal or from one of the South Pacific Islands such as Papua New Guinea.
"When carbon dating failed to produce any results the item was subjected to chemical testing, revealing only then that the skull was neither bone nor fossil and, in fact, an elaborate fake, having been cast from a real skull.
"It will remain a mystery as to how and why this actually ended up in the river that runs through Spa Wood. I would invite anybody with any information that may help me answer this to contact me.
"I would like to thank members of Burnley and District Historical Society for their help with researching the area prior to the skull being exposed as a fake."
Anyone with information about how the replica skull came to be in the water is asked to call Det. Sgt Haynes on 01282 472240.