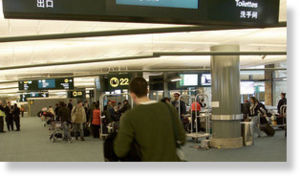 Canada, British Columbia - A French citizen
convicted of human smuggling offences
in Vancouver has been sentenced to four years in prison.
Mikael Prone was arrested at Vancouver International Airport in November after escorting two Iranians, a brother and sister, into Canada from China. The pair paid $90,000 to get into Canada illegally using forged Israeli passports.
Border officers say Prone helped the pair get on the plane with the passports, and planned to leave them for customs officials to deal with.
Prone was found guilty on May 31 of five counts involving human trafficking.
But Prone's lawyer Mark Thompson says his client was simply a pawn in a large smuggling operation.
"My client maintains his innocence throughout," Thompson said. "He still maintains that he's been used as a dupe by people who are smarter than he and he was used by the Iranians and the people that the Iranians hired."
The well-forged illegal passports helped form the basis of Prone's heavy sentence. Few smugglers have been caught and sentenced in Canada, and often those who are caught only face a few months in jail.
Judge Harbans Dhillon said while Prone had no criminal record, it was clear he was involved in a highly sophisticated, profitable smuggling ring.
She said as cases like this increase, sentencing needs to act as a deterrent.