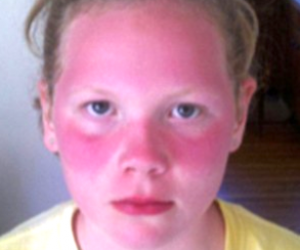 Violet Michener, 11, and her 9-year-old sister Zoe were badly sunburned after spending an afternoon in the sun at school in Tacoma Washington, reports the
Daily Mail
.
Their mom, Jesse Michener, was furious when she learned that teachers refused to allow the children to apply any sunscreen because of a state law (video below).
In Washington State, students are not allowed to apply or carry sunscreen in school because it is deemed a prescription medication, even though it is purchased over-the-counter.
Jesse Michener claims that one of her daughters has a form of Albinism, which makes the skin more prone to burning and that the school was aware of this condition.
Michener wrote on her blog:
"Two are home today as a direct result of how terrible they feel. My children indicated that several adults commented on their burns at school, including staff and other parents."
Dan Voelpel, a Tacoma school district spokesman, told
ABC News
:
"Because so many additives in lotions and sunscreens cause an allergic reaction in some children, we have to really monitor that."
According to Michener's blog, the director of Elementary Education in Tacoma Public Schools called her last week and told her of a new law that was passed allowing districts to decide for themselves what's allowed and what's not.
Michener wrote:
"He stated that how the law will actually shake-out for districts is still to be seen (the devil is always in the details), but that he hoped a policy revision could be achieved by October."
Apparently, until then, the children will be exposed to more sun damage and possibly skin cancer.