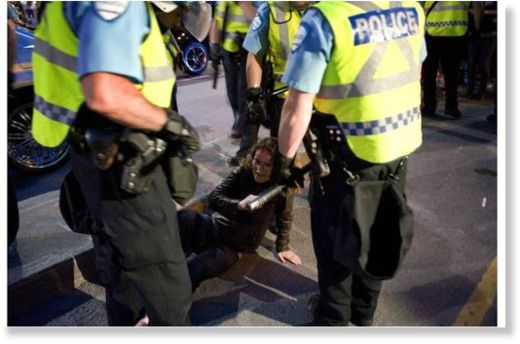 Canada, Montreal - Organizers of this weekend's Grand Prix festivities in downtown Montreal saw their worst nightmare play out on Saturday night as protesters and police clashed for two hours along one of the city's busiest thoroughfares, trapping thousands of revelers in the middle of recurring episodes of chaos.
Police reported a total of 28 arrests.
The night began peacefully around 9 p.m. as a group of about 600 protesters set out from Émilie Gamelin Park near the Berri-UQÀM métro station and made their way west, walking at a brisk pace until they ran into a line of riot police that forced them to turn south. A game of cat and mouse ensued, with officers from both the Sûreté du Québec and the Montreal police force continually blocking access west and pushing the demonstrators further and further south.
At 9:45 p.m., however, the crowd finally managing to dart up toward Ste. Catherine St. W. and into the heart of the Grand Prix party, which at that point was in full swing.
Within minutes, all semblance of order along the already bustling street appeared to collapse.
Traffic ground to a halt and the crowds - party-goers and protesters alike - flooded into the roadway.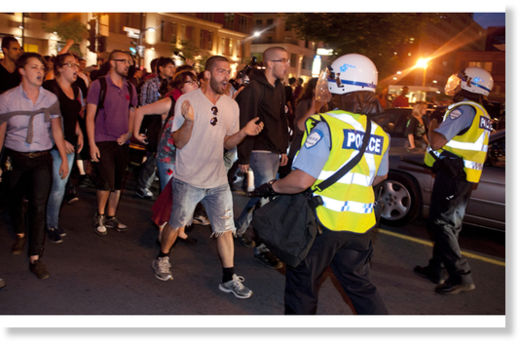 Projectiles were thrown at officers and several police vehicles had their windows smashed or were otherwise damaged at the intersection of Ste. Catherine and Crescent Sts.
Police were seen making several targeted arrests within the crowd.
At one point, pepper spray was deployed and a line of riot police advanced on the mass of people who had gathered to watch the confrontation unfold. Panicked, the crowd fled both east and west away from the chaotic scene. One woman was seen cowering behind a jewelry stand. Others could be heard screaming.
Many people, including several children, were overcome by pepper spray that wafted through the air.
Over the next hour, police pushed the crowds back, only to have them advance again several times, ending up right back where the first clash occurred at the entrance to Crescent St. - traditionally the busiest spot downtown during Grand Prix weekend.
Constable Raphaël Bergeron of Montreal police said Sunday morning that of the 28 arrests, 16 were for charges under the Criminal Code including assault and assault with a weapon.
One dozen individuals were arrested on a municipal bylaw infraction, he added.
Police also confirmed that earlier Saturday, a cab driver had gotten into a heated argument with demonstrators at the intersection of Beaver Hall and Belmont Sts. The cabbie allegedly drove his car into a small knot of people standing on the roadway, injuring three protesters and damaging a bicycle before speeding away, Montreal police Constable Simon Delorme said.
Minutes later, the driver was pulled over by police.
Police said initially the cabbie would likely face charges in connection with the incident.
Sunday morning, Constable Anie Lemieux of Montreal police said the taxi driver had been released after questioning, and isn't likely to be charged.
The three people hurt - a 25-year-old man, a 25-year-old woman and a 50-year-old man - were taken to hospital for treatment of what Delorme described as "minor injuries".
There were no immediate reports of other injuries, serious or otherwise.
Standing along a sidewalk on Ste. Catherine, a woman who gave her name as Gene said she was "embarrassed" by what was happening.
"I don't think anyone thought it would come to this," she said, shaking her head. A native Montrealer, Gene said she approved "completely" of the police response to the demonstrators, and clapped loudly whenever officers walked by.
Others in the crowd were not so pleased with the police force's response.
"Where is the riot?" one woman screamed as she sprinted away from a line of advancing officers.
Other people said that they felt unsafe, and that they feared the police had lost control of the situation.
Throughout the evening, small verbal and sometimes physical fights broke out within the huge crowd between supporters of the student strike movement and those who oppose the protest actions. Two men nearly came to blows near de la Montagne St. before their friends dragged them away from each other.
One man, who did not wish to give his name, was overheard saying that he was genuinely frightened by what was happening around him.
Even as he was speaking, protesters surrounded a police car with officers seated inside and began vandalizing the vehicle. Riot police quickly moved in to free the trapped car.
Despite the violence unfolding just a few metres away, the upscale parties taking place along the upper part of Crescent St. on Saturday night seemed to continue largely undisturbed.
One man in town from New York City, who gave his name only as Jim, said he found the whole thing entertaining.
"I was excited about the rioting," he said, laughing.
"I'm from New York. It doesn't frighten me at all. It's just like (Occupy Wall Street), but on a smaller scale."
Shortly before 1 a.m., things appeared to be returning to normal.
Source: The Montreal Gazette; Jan Ravensbergen of The Gazette contributed to this report.