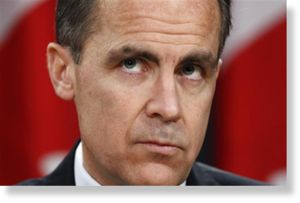 Canada needs to look beyond its southern neighbour for markets because the United States economy is unlikely to ever fully recover, Bank of Canada governor Mark Carney said Sunday.
In an interview with CTV's
Question Period
, Carney said that it is vital for Canada to look for new trading partners in the Asia-Pacific region and elsewhere to prevent the economy from being dragged down by the U.S.
"It's going to take a number of years before they get back to the U.S. that we used to know - in fact, they are not, in our opinion, ultimately going to get back to the U.S. that we used to know," he said.
Carney pointed to China as a market with great potential and as a place where Canada is currently under-represented, but cautioned it would take time to enhance trade between the two countries.
"It's going to take multiple visits, multiple initiatives. Not, obviously, from the public sector alone, but clearly a focus from the private sector," Carney said. "That is absolutely essential for developing our future and it's a key element of our medium-term growth."
He said that the eurozone crisis, if it stays contained on that continent, won't have a catastrophic effect on the Canadian economy.
Carney said discussions are ongoing about restructuring Greek debt and efforts by the European Central Bank to ensure that banks in the continent have access to capital.
"That goes a way to containing the crisis - it's not the last word but it's an important measure that's been taken. There are other contingency measures that have been taken, that are being put in place that are helpful in this situation," Carney said.
Along with citing slumping trade with the U.S. and a debt crisis in Europe, Carney repeated his warning that Canadians are carrying too much debt, and have been for some time.
"Some measures have been taken and they've been effective, they've helped reduce some of the risks around household debt," he said. "But . . . household debt is at a new record high. We expect to see the debt-to-income ratio to continue to climb over the course of the next couple of years."
For every dollar they earn, Canadians now owe $1.54.
The governor also warned that housing prices in some Canadian markets may be overvalued, posing some risk to homeowners.
Despite some worries about Canada's economic prospects, Carney said the bank still expects "modest" growth of 2.0 per cent next year, spurred on by consumer spending and unexpectedly high activity in the real estate market.
"Remember the ultimate speed limit in the Canadian economy is a little over two per cent, so we're not that far off it," he said. "We still have some slack in the economy, there's still more Canadians unemployed than should be or than (we) would like."
One benefit of the crisis in Europe, Carney said, is that countries are looking to long-term Canadian government bonds and Canadian banks for stability.
Source: Postmedia News