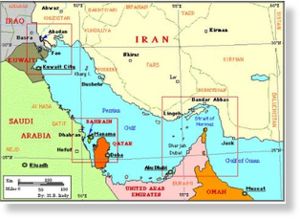 Tension in the oil shipping lanes of the Gulf looks set to intensify amid indications that Iran, Israel and the US will hold military exercises designed to test weaponry and tactics.
As the
US and European Union press ahead with oil sanctions
on Iran, Tehran's defence minister announced on Friday that the Iranian Revolutionary Guard Corps will hold large-scale exercises in the Strait of Hormuz and the Gulf next month.
The drills will be the "greatest naval war games" to be conducted by the Iranian military's elite corps, Brigadier General Ahmad Vahidi, said in remarks published by the semi-official Fars news agency. The exercises, called "the Great Prophet", will take place in February and will be more extensive than
Iranian naval manoeuvres in the Sea of Oman
that ended this week.
Read the rest of this article on
FT.com
.