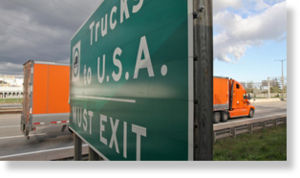 Canada and the United States will announce a new security perimeter deal Wednesday that is expected to move more inspections off the border and onto factory floors, expanding the type of goods - including food - that can be fast-tracked between the two countries.
Business groups say the expansion of trusted shipper programs to include the food industry will likely be among the most concrete measures in a deal that aims to tackle the long security delays creating expensive logjams for business.
Rather than a sweeping new border deal that will take effect immediately, Prime Minister Stephen Harper and President Barack Obama are expected to unveil plans in Washington that are heavy on working groups and pilot projects. Many of the promised changes will roll out over the coming years, as both governments find the money for new border infrastructure like improved fast-track lanes for preapproved containers.
"Not all of it will be visible to the public," said Perrin Beatty, president of the Canadian Chamber of Commerce, who has monitored the talks closely. "A lot of it will be under the hood in a sense, in that it will be felt by business. For example, having one inspection instead of two. It will reduce compliance costs and delays significantly."
A central feature of Wednesday's agreement will be a pledge by both governments to share far more information between government agencies in an effort to improve North American security. But Canada's Privacy Commissioner, Jennifer Stoddart, has laid out several concerns given the two countries' very different privacy laws.
Ms. Stoddart recently warned of drawing "ever closer to the bleak reality of a surveillance society" if the collection of Canadian biometric data - such as iris scans or fingerprints - end up being stored in U.S. databases.
In addition to the "Beyond the Border" initiative, a second part of the deal led by a Regulatory Co-operation Council focuses on harmonizing safety regulations between the two countries - particularly for food and transportation. Working out those details will take time.
A Canadian industry group representing large international food companies like Coca-Cola, Dole and Kellogg is hoping the deal will ultimately see Health Canada opting to rely more on the U.S. Food and Drug Administration to approve new food products rather than studying them independently.
Derek Nighbor, a senior vice-president with Food and Consumer Products of Canada, notes one case where Health Canada took eight years longer than the United States to approve a new type of margarine fortified with plant sterols.
"It takes much longer in Canada to get new foods approved into the marketplace and that creates competitiveness challenges for Canadian processors," he said, arguing Canada would still have the final say over whether or not to approve a product.
But Mike McBane, a consumer advocate who heads the Canadian Health Coalition, said he's concerned harmonized regulations will lead to weaker protection of Canadian consumers. He also questions why Canada would want to surrender such powers to U.S. government departments.
"We don't vote in Congress, why would we hand over the safety of our food to a foreign power?" he asked. "It's a very strange notion that we would feel comfortable in handing over decisions on the future of our food system to Washington."