Los Angeles - Residents of a coastal neighborhood were worried Monday about safety and property values after a large chunk of a street and the coastal bluff it sat on crumbled into the ocean amid heavy rains on Sunday.
A section of Paseo Del Mar in the San Pedro area that for months had been creeping toward the ocean collapsed as a storm struck, L.A. Mayor Antonio Villaraigosa said in a statement. In recent weeks the section had been moving at about 4 inches a day.
"My greatest concern (is) that all these homes right here are going to end up in the water and that we're going to be separated and our own little island," said one resident interviewed by nbclosangeles.com just outside the closed-off area. "I have three kids and two grandkids and I want them to be able to have the ocean view and be able to stick their feet in the sand and not fall off a cliff."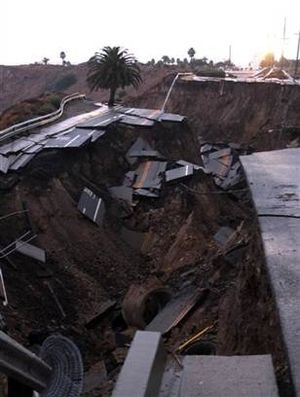 Another resident said locals were talking about how the slide would undermine property values.
Witnesses said power poles began to sway and then "snapping" noises were heard when the big slide happened around 3 p.m.
The mayor said there were no injuries and no property was damaged. Workers rerouted a storm drain in the area as a precaution.
The scenic route had been closed since spring. A 900-foot-long had been bisected by 25-foot-deep fissures in places and the city had erected a chain link fence and warning signs.
The peninsula's scenic qualities prompted decades of homebuilding that some experts blame for further destabilizing the historically unstable ocean bluffs.
The Associated Press contributed to this report.