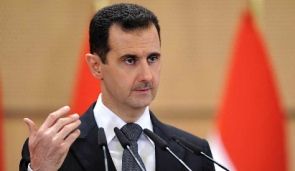 French Foreign Minister Alain Juppe says pressure of protests and sanctions will eventually oust Bashar Assad from power but process will take time due to complexity of internal and regional politics.
The government of Syrian President Bashar Assad will almost certainly fall under the pressure of protests and sanctions, but it will take time due to the complexity of internal and regional politics, French Foreign Minister Alain Juppe said on Wednesday.
With a crackdown on pro-democracy protests in Syria now seven months old, Western powers including France are relying on a combination of sanctions and diplomatic pressure to weaken Assad's hold on power.
The European Union widened sanctions against Assad and the Syrian state after China and Russia blocked an attempt by Western powers to bring about a UN Security Council resolution condemning violence against protesters.
"It's true that in New York (at the United Nations) we were blocked, and that is a stain on the Security Council, which said almost nothing about this barbaric repression," Juppe said on France Inter radio.
"This will end with the fall of the regime, it is nearly unavoidable, but unfortunately it could take time because the situation is complex, because there is a risk of civil war between Syrian factions, because surrounding Arab countries do not want us to intervene."
Assad, who says his government is serious about political reform, will meet an Arab League committee in Damascus on Wednesday. The six-nation committee includes Algeria, Oman, Sudan and Yemen -- countries seen as sympathetic to Syria.
Juppe said that while most Arab nations opposed action against Syria, Turkey was moving closer to the Western position and had begun to exert pressure on the Syrian government to stop the crackdown.
After months of clashes between protesters and security forces, which have killed 3,000 people, according to a UN estimate, Syrian army deserters have formed the beginnings of an armed insurgency against the state.
Opposition abroad to the Syrian government has begun to coalesce under the Syrian National Transition Council. France has stopped short of recognizing the body, but signalled its support earlier this month when Juppe shook hands with its leader in Paris.
Source: Reuters