Oakland, Calif., police in riot gear stand guard after firing tear gas, beanbag rounds overnight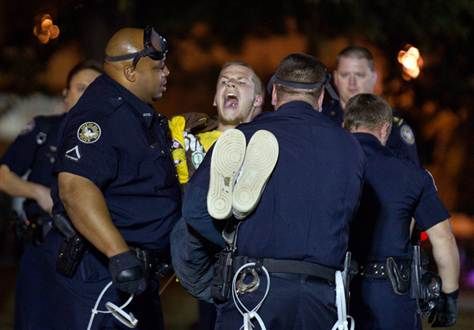 Police moved into a downtown Atlanta park and arrested around 50 Occupy Wall Street protesters who had been encamped there for about two weeks early Wednesday, while across the country in Oakland, Calif., officers in riot gear stood watch after clashes there with demonstrators overnight.
The scene was calm but tense early Wednesday in Oakland, where only a few dozen stalwart demonstrators remained in the aftermath of skirmishes in front of City Hall. Police deployed five volleys of tear gas in blasts that seemed to intensify with each round over a roughly three-hour stretch of Tuesday evening scuffles, causing some protesters to douse their eyes with water and even vomit, NBC affiliate KNTV in San Francisco reported.
Officers also fired beanbag rounds, clearing out the encampment of protesters in less than an hour.
The site was among numerous camps that have sprung up around the country as protesters rally against what they see as corporate greed and a wide range of other economic issues. The protests have attracted a wide range of people, including college students looking for work and the homeless.
Meanwhile, in Atlanta's Woodruff Park on Tuesday, protesters were warned a couple times before police moved in around midnight to vacate the park or risk arrest. Inside the park, the warnings were drowned out by drumbeats and chants of "Our park!"
Organizers had instructed Atlanta participants to be peaceful if arrests came, and most were. Many gathered in the center of the park, locking arms, and sang "We Shall Overcome," until police led them out, one-by-one to waiting buses. Some were dragged out while others left on foot, handcuffed with plastic ties.
Police included SWAT teams in riot gear, dozens of officers on motorcycles and several on horseback. By about 1:30 a.m. Wednesday the park was mostly cleared of protesters. Organizers had urged protesters to return in the morning, but by 8:30 a.m. it was still largely empty, the
Atlanta Journal-Constitution
reported on its website.
The Occupy protests over economic inequality have spread from a single camp in New York City to cities across the United States and beyond since mid-September, overlapping with similar, earlier protests in Europe. An attempt earlier this month to clean the New York site, which protesters there feared was a tactic to shut them down, ended with authorities backing off.
Georgia State Sen. Vincent Fort was among those arrested and had come to the park in support of the protesters in recent days. He said the police presence was "overkill."
"He's using all these resources ... This is the most peaceful place in Georgia," Fort said, referring to Atlanta Mayor Kasim Reed. "At the urging of the business community, he's moving people out. Shame on him."
Reed said that the protests cost the city about $300,000, the
Atlanta Journal-Constitution
reported.
Some protesters could be overheard saying they would return to the park at 6 a.m. Wednesday, when it would be legal for them to be there. TV images showed the number of police far outnumbering the protesters.
The number of protesters diminished with each round of gas, and by early Wednesday there were just a few dozen at the site of the clashes.
The last skirmish there Tuesday night came around 11:15 PT in front of City Hall, where a haze of chemical smoke still hung in the air. Earlier in the evening, the crowd had numbered around 1,000, according to SFGate.com. BART closed Oakland's 12th Street station because of tear gas deployment, KNTV reported.
Police established a presence in a plaza where a pre-dawn raid Tuesday dismantled an encampment of Occupy Wall Street protesters that had dominated the area for more than two weeks.
Authorities removed about 170 demonstrators who had been staying in the area overnight after repeatedly being warned that such a camp was illegal and they faced arrest by remaining. City officials said 97 people were arrested in the morning raid.
The first evening scuffle broke out after several hundred people made their way back to City Hall in an attempt to re-establish a presence in the area of the disbanded camp.
The protesters had gathered at a downtown library, marched toward City Hall and ultimately were met by police officers in riot gear. Several small skirmishes broke out and officers cleared the area by firing tear gas.
The scene has repeated itself several times since. But each time officers move to disperse the crowd, protesters quickly gather again in assemblies that authorities have declared illegal. Tensions rise as protesters edge closer to police line and climax when someone throws a bottle or rock and authorities response with volleys of gas.
Police have denied reports that they used flash bang canisters to help break up the crowds, saying the loud noises came from large firecrackers thrown at police by protesters.
Protesters defiant
Helicopters scanned the area late Tuesday and scores of officers wearing helmets and carrying clubs patrolled the streets. Fire crews responded to small blazes in trash containers.
Protesters moved about uneasily even as one used a bull horn to express his resolve.
"This movement is more than just the people versus the police," Mario Fernandez said. "It's about the people trying to have their rights to basic services."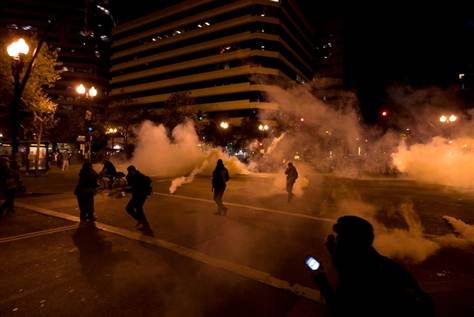 He added, "This crowd isn't going anywhere anytime soon."
Acting Police Chief Howard Jordan told reporters at a late night news conference that authorities had no other choice, saying the protesters were throwing rocks and bottles at officers.
"We had to deploy gas to stop the crowd," he said, according to a KCBS report.
City officials say that two officers were injured. At least five protesters were arrested and several others injured in the evening clashes.
In Oakland, tensions between the city and protesters have been escalating since last week as officials complained about what they described as deteriorating safety, sanitation and health issues at the site of the dismantled camp.
The Associated Press contributed to this report.