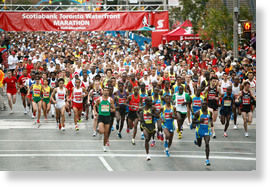 A 27-year-old participant in a Toronto marathon died just a few hundred metres from the finish line, police and organizers said Sunday.
The man was around 300 metres from the finish line of the Scotiabank Toronto Waterfront Marathon when he collapsed, Bruce Minnes, medical director for the marathon, said in a statement.
"The individual received an immediate response from a bystander who initiated CPR," the statement said.
Emergency response units working with the marathon were on the scene within moments.
The man was transported to St. Michael's Hospital, where he was pronounced dead.
The man's identity and the cause of death were not being released until all his family members were notified.