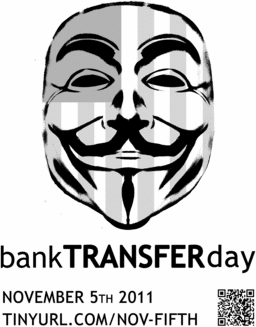 Even with most credit unions closed for Columbus Day there was plenty of online buzz, and uncertainty, about what the credit union industry role might be on "Bank Transfer Day," the latest event surfacing from the "Occupy Wall Street" protests.
Industry sources, speaking off the record, suggested any wholesale switch from large banks to CUs on Nov. 5, the day designated by one Californian and carried atwitter Monday, could conceivably put net worth ratios out of whack.
The balance sheet problem was raised by several industry officials as a potential hazard as online articles focused on what "Occupy" supporters are calling now for a specific action to underscore their complaints against big banks and corporate "greed."
For the record, Mark Wolff, CUNA senior vice president-communications, said only that the trade group welcomes the idea of "a viral 'Bank Transfer Day'" since it shows "just how angry consumers are becoming with their treatment by big banks" and will now look at CUs.
CUNA said its Facebook posts have already witnessed big jumps in traffic on
asmarterhoice.org
. There also have been big gains on
findacreditunion.org
.
Many consumers, said CUNA, are already "discovering" credit unions online and "many more no doubt will as a result of this Bank Transfer Day initiative."
Wire service reports Monday identified the ringleader of "Bank Transfer Day" as Kristen Christian, a 27-year-old Los Angeles art gallery owner who said she is not affiliated with the Occupy Wall Street protest, but that demonstration organizers had reached out to her to express support.
Christian reportedly chose Nov. 5 because of its association with 17th century British folk hero Guy Fawkes, who tried to blow up the British House of Lords but was captured on that day.
A
Facebook page
for the event states that ""
together we can ensure that these banking institutions will always remember the 5th of November!! If the 99% removes our funds from the major banking institutions on or by this date, we will send a clear message and give the 1% a taste of the fear that we experience every day when we aren't able to pay for our rent, food, medication, utilities, student loans, etc
."
The protests began in New York and have popped up around the country. A few hundred protesters gathered in Las Vegas, for instance, on Thursday night and were escorted by police for a march down the Strip. Among the calls for action on the flyers being distributed was to move banking accounts to credit unions.