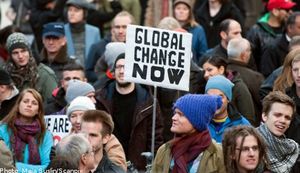 Following a wave of
Wall Street protests
worldwide on Saturday, raised voices against corporate greed were also heard in Sweden, with demonstrations in Stockholm, Gothenburg, Malmö and several other cities.
Einar Stensson, sociologist and one of the Stockholm protest's organisers, was one of many to speak at the demonstration held at central Sergels Torg in Stockholm, where several hundred had gathered on Saturday.
"The financial crisis has hit us, and we've had to pay while those responsible get away scot-free," he said to news agency TT.
"Now we're looking to get organised and create our own power, because the political parties have disassembled their own people's movements, and aren't interested in having our influence in politics," he said.
The Stockholm protest attracted a mixed crowd, from punk teens to well-dressed pensioners. Protesters wrote slogans and demands with crayon on Sergels Torg's signature black and white-patterned floor, and around 2pm marched on the nearby
Riksbank
.
At 5pm, over a hundred protesters were still gathered in the park outside Riksbanken, with several having pitched tents and set up camp.
Home-painted placards demanded from the politicians answers to questions like "Where are our bailout packages?" and an impromptu Speaker's Corner had been made out of a covered fountain.
Kaife Amin and his friend were at the site, holding a large banner with the message "The system is the problem".
"The capitalist system is about to collapse economically, ecologically, morally and in every way and every direction," he said to TT.
Protests were planned in more than 70 countries and 700 cities.
Thousands gathered in London's and and Frankfurt's financial areas, and tens of thousands convened in Rome, where protests turned violent as windows were broken and cars set alight, according to reports from AFP.
The Roman protesters received unexpected support from Mario Draghi, expected to be the next head of the European Central Bank (
ECB
).
"They're angry at the world of finance. I understand them," said the 64 year-old economist, currently heading the Italian central bank.