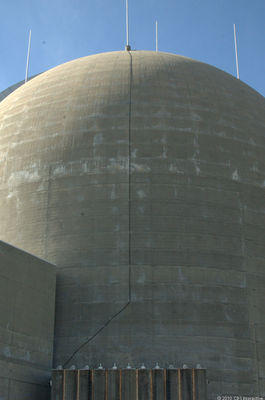 Tehran - Iran's first nuclear power plant stepped up operations Monday after more than a decade of delays, pumping out electricity at up to 40 percent capacity and marking a major step forward in the Islamic Republic's nuclear program.
The Bushehr nuclear plant - which officials say could begin full-power operations in December - is also a cornerstone of Iran's drive to become a technological leader among Muslim nations with efforts such as a space program and long-range missile development.
The U.S. and its allies accuse Iran of using its civilian nuclear program as a cover to develop nuclear weapons. Iran denies the claim and says it only seeks reactors for energy and scientific research.
Senior Iranian and Russian officials attended celebrations for the official launch of the 1000-megawatt Bushehr plant on the Gulf. It began to generate between 350 to 400 megawatts of electricity, equal to 35 to 40 percent of the reactor's full capacity.
The Russian-built plant was connected to the national power grid for a test run Sept. 4, generating 60 megawatts.
Iranian Vice President Fereidoun Abbasi told State TV that full-capacity operations are expected to begin in December after a series of additional tests.
"The facility will reach its full capacity - that means 1,000 megawatts - in December," the TV quoted Abbasi as saying.
Russia's Rosatom chief Sergei Kiriyenko called Monday's launch a "big celebration" and a symbol of Tehran-Moscow cooperation, although there are no current plans for Russian help with future reactors planned by Iran.
The launch of the plant has been delayed for more than a decade over technical and construction setbacks.
Although the West has been deeply suspicious of Iran's nuclear aims, Washington has not opposed Iran's push for atomic reactors for energy and research.
Last October, U.S. Secretary of State Hillary Rodham Clinton made a clear distinction between Bushehr and other nuclear efforts - such as uranium enrichment - that Washington worries could lead to weapons production.
"Iran is entitled to the peaceful use of nuclear power," she said after speaking at a U.N. Security Council meeting. "They are not entitled to a nuclear weapons program."
Russia has promised to have full oversight of the nuclear fuel used in the plant.
The Bushehr project dates back to 1974, when Iran's U.S.-backed Shah Mohammed Reza Pahlavi contracted with the German company Siemens to build the reactor. The company withdrew from the project after the 1979 Islamic Revolution toppled the shah and brought hard-line clerics to power.
In 1992, Iran signed a $1 billion deal with Russia to complete the project. Work began in 1995 with a timetable to begin operations in 1999.
Earlier this year, foreign intelligence reports said the plant's control systems were penetrated by Stuxnet, a malicious computer software.
Iran maintained that Stuxnet was only found on several laptops belonging to plant employees and didn't affect the facility. Tehran later blamed the U.S. and Israel of being behind Stuxnet, saying the worm was part of a covert plan by Iran's enemies to sabotage its nuclear program.