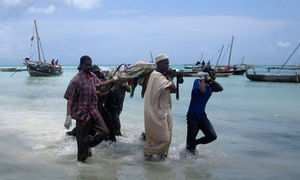 At least 192 people killed - and 600 rescued - as ship capsizes near Tanzanian island
Nearly 200 people drowned when an overloaded ferry capsized off east Africa as it sailed from Zanzibar to Pemba island, police said on Saturday, Tanzania's worst maritime disaster in at least 15 years.
Fishing boats and tour operators are scouring the sea for scores of people who are still missing after the disaster, which happened overnight.
A police spokesman said 192 bodies had been recovered and 606 passengers rescued from the Indian ocean so far.
"There is a possibility that more bodies still remain at sea. Rescue workers are still searching for survivors and retrieving bodies," he said.
At the northern tip of the island, dozens of soldiers carried bodies onto white sand beaches, where thousands of people awaited news of survivors.
"The ferry flipped and capsized. There could be more bodies trapped inside the hull of the ship with the cargo," rescue worker Ali Ramadhan told Reuters. "We suspect the ship was overcrowded with more than 800 passengers onboard."
Suleiman Amis, 32, who works on a local diving tour boat, told Reuters: "Many of us got here about 2.30 this morning.
"We sent out some boats to search for the survivors, but we did not find them until very, very late. We have friends who we know were on that boat and we want to go back out to find them as soon as possible."
Zanzibar and Pemba are the two main islands of the Zanzibar archipelago, a popular destination for tourists visiting their pristine Indian Ocean beaches.