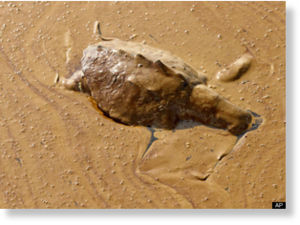 San Ramon, California-- U.S. supermajor Chevron announced a discovery at a deep-water prospect in the Gulf of Mexico left idled after last year's disastrous oil spill.
Washington placed a moratorium on oil and natural gas exploration in the Gulf of Mexico after the
Deepwater Horizon
rig caught fire and sank in April 2010, killing 11 workers and causing one of the worst oil spills in the history of the industry.
Chevron began drilling its Moccasin well in March 2010 but stopped when the moratorium was enacted after the spill. Operations resumed this March and the supermajor said it encountered more than 380 net feet of pay during renewed drilling.
"The Moccasin discovery underscores the importance of the deep water Gulf of Mexico as a source of domestic energy for the United States and as a focus area for Chevron's worldwide exploration portfolio," Chevron Vice Chairman George Kirkland said in a statement.
Chevron drilled more than 31,000 feet deep in water depths of 6,759 feet, about 1,700 deeper than the
Deepwater Horizon
well.
The company said it was evaluating well results to determine the exact volume of the resource.