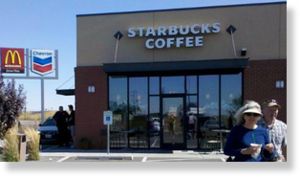 The Ritzville Police Department is investigating a bomb threat after two threatening calls were made to the Starbucks along Weber Rd.
A Starbucks employee told police that someone called saying that "there is a bomb in your store, everyone is going to die." The call came in at 10:43 a.m., and the employee could not tell if it was a male or female because the voice was altered. Shortly after, Starbucks received a second call saying the same thing.
Authorities evacuated Starbucks and six other nearby businesses.
Ritzville Police consulted with TSA officials and members of the Kennewick bomb squad about how to proceed.
Ritzville Fire crews searched all seven businesses, and found nothing suspicious. They also removed trash cans from each of the businesses. The garbage was taken to a safe area. Inspectors will wait 24 hours before sorting through it.
The businesses were allowed to reopen within two hours.
Authorities will subpoena phone records from the phone company Starbucks uses to try and trace the calls.