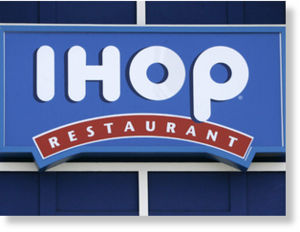 Helicopters on the scene to transport victims; their conditions unclear
One person is dead and at least seven people were wounded during a shooting Tuesday morning at a restaurant in Carson City, according to the FBI and local police.
Lt. Rob Van Diest of the Reno Police Department told the Reno Gazette-Journal that one person has been confirmed dead.
Carson City Sheriff Kenny Furlong told The Associated Press the gunman opened fire inside an IHOP restaurant about 9 a.m. on Tuesday. He said multiple people were wounded, including the shooter.
Furlong said the person who authorities believe to be the shooter has been transported to a hospital "and is probably going to die." It was unclear if the confirmed death was the alleged gunman.
A spokesman for the FBI Nevada office said that seven people were wounded and investigators believe only one shooter was involved.
The conditions and names of the victims were not released. Some of the victims were being transported from the scene by helicopter, and others left by ambulance.
The incident took place at the Carson City International House of Pancakes on South Carson Street.
Ralph Swagler, owner of another restaurant near the IHOP told the Reno Gazette-Journal that he witnessed the shooting. Swagler said he saw a man wearing a red shirt and black shorts pull up to the IHOP in blue minivan. The man then pulled out a rifle and shot a man on a motorcycle, then walked inside IHOP and started shooting, Swagler told the newspaper.
The man then fired several shots at other businesses in the area, including the Locals Barbecue and the H&R Block.
"This happens in Third-World countries, not here," Swagler, owner of Locals Barbecue, told the newspaper.
Local and state police and FBI agents have descended on the scene on the main street in the state capital, also called U.S. 395. Yellow tape surrounded the parking lot near a Kohl's department store in a shopping complex across the street from a casino and hotel.
A business in the area told NBC station KRNV TV that nearby businesses have been put on lockdown.
"We just heard basically a string of gunshots, probably 5 to 7 back to back to back to back and then there was probably 30 second delay then an automatic weapon fired, probably 20 to 30 shots," said Gary Gamba, general sales manager at Michael Hohl Motors, which is across the street from the IHOP.