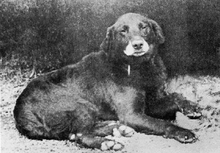 A two-week-old Houston-area boy has died after being mauled by the family dog.
The incident happened Saturday night as the baby sat in an infant carrier on the floor of a room in the family house. Harris County sheriff's spokesman Thomas Gilliland says the dog, a Labrador mix, began sniffing the child and attacked him before the parents could pull it away.
The child was airlifted to Memorial Hermann Hospital, where he died early Sunday. Animal control officers have taken custody of the dog for quarantine.