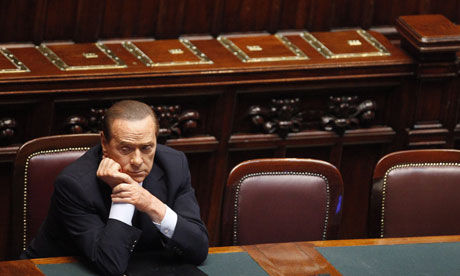 Transcripts from blackmail investigation reveal the Italian prime minister's frustration with his country
In a sign of his frustration at the investigations into his alleged crimes and misdemeanours, Silvio Berlusconi vowed in July to leave Italy, which he described as a "shitty country" that "sickened" him.
The Italian prime minister's astonishing remarks are contained in the transcript of a telephone conversation secretly recorded by police investigating claims he was being blackmailed about his sex life.
At dawn on Thursday, police swooped on a flat near Via Veneto - one of Rome's most expensive streets - to arrest Giampaolo Tarantini, a central figure in a scandal that threatened to bring down Berlusconi two years ago.
Tarantini's wife, Angela Devenuto, was also taken into custody and a search launched for a third person. The arrest warrant shows that the three are accused of extorting at least €500,000 (£440,000) "as well as other benefits of economic significance". Berlusconi has admitted paying the couple, but said he did so voluntarily.
Two years ago, Tarantini, a businessman from Bari in southern Italy, said he supplied 30 women for parties at the prime minister's Roman palazzo. He told police at least six women spent the night there.
According to the judicial arrest warrant issued on Thursday, a third person - Valter Lavitola, the editor of a small newspaper - maintained direct contact with Berlusconi and received the cash in monthly instalments from the prime minister's personal secretary.
It was in a phone conversation with Lavitola late on 13 July that Berlusconi was said by the judge to have erupted in anger. "They can say about me that I screw. It's the only thing they can say about me. Is that clear?" he said to the man allegedly blackmailing him. "They can put listening devices where they like. They can tap my telephone calls. I don't give a fuck. I ... In a few months, I'm getting out to mind my own fucking business, from somewhere else, and so I'm leaving this shitty country of which I'm sickened."
Berlusconi was speaking four days after a court in Milan dealt him the heaviest blow he has suffered in his long and intensely controversial business career. The court ruled that the firm at the heart of his group of companies should pay €560m to his bitterest commercial rival as compensation for bribing a judge in order to win control of Mondadori, Italy's biggest publisher.
But the conversation also took place at the height of a crisis on the financial markets, and in the midst of frantic efforts in parliament to approve a package of measures designed to eliminate Italy's budget deficit. Berlusconi's public silence during this period attracted comment at the time, particularly in the financial media.
The sex scandal at the origin of the latest allegations was one of several involving Berlusconi in the past three years. He is on trial in Milan charged with paying an underage prostitute and then using his position to cover up the alleged offence, but that case is not related to the one that has now come back to haunt him.
Details of the latest investigation were leaked last month in a news magazine belonging to Berlusconi. The magazine,
Panorama
, claimed the prosecutors believed Tarantini was being paid to stop him contradicting the prime minister's claim that he was unaware that some of the women who visited his home were prostitutes.
But
Panorama
said Tarantini had repeatedly confirmed in wiretapped conversations that Berlusconi was indeed oblivious of the payments the women were receiving. Italy's prime minister, who turns 75 later this month, has made much over the years of his talents as a playboy and has insisted he would never pay for sex.
The magazine claimed the main reason the prime minister was passing money to Tarantini was to ensure he did a deal with the prosecutors to avoid a trial and the disclosure of "telephone wiretaps held to be embarrassing". Berlusconi told the magazine: "I helped someone and a family with children who found themselves and continue to find themselves in very serious financial difficulty. I didn't do anything illegal. I limited myself to helping a desperate man without asking for anything in exchange. That's the way I am and nothing will change that."