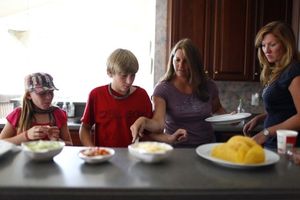 Denise Steele has been living in Loudoun County for more than a decade, becoming involved with the community, especially through being part of her son's Boy Scout troop for the past six years.
Steele started out in Boy Scouts as a den leader for her son, Jackson, 12, for his school, Horizon Elementary. No other parent would step up to the plate to take on the responsibility of leading a Cub Scout troop.
In retrospect, the situation was probably good - her son's troop excelled at everything, including accomplishing badges and winning the Blue and Gold Award all five years, one of the highest awards for Boy Scouts.
Above all, like any mother, Steele put her son first and wanted to make sure he had a great time in scouts.
But in June, Steele's chances to further bond with her son through scouting were dashed.
The mother was removed from the troop after one of the other assistant scoutmasters discovered Steele is a lesbian.
Steele has been in a domestic partnership with Jackie Funk for the past 19 years. The two reside in Potomac Falls with their two children, Jackson and Jaden, 9, and Steele's nephew Will, 10.
Steele's homosexuality has never been an issue with her in the past in regards to leading her son's Boy Scout troop - it may have even opened some eyes to it.
"Some of the guys would come down and ask her advice," Funk said. "Being a woman, forget about the gay part, it didn't matter.
They respected her for her committment and what she offered and how much she put into it. They respected her."
Funk describes Steele as an "uber leader" and said that Steele got really into scouting.
"They made it fun and the boys wanted to stay in it. All the boys, except for like two who moved away, they all stayed the whole time. And scouting is just not cool anymore for a lot of people," Funk explained.
Phil Holliday, the executive pastor at Christian Fellowship Church and Esther Schaeffer, the charter organization representative, say they are simply following the rules.
When a chartered partner agrees to sponsor a scouting unit, an annual charter agreement is signed, they explained.
In the contract, they agree to provide a place for a meeting, select volunteer leaders and follow the policies and guidelines established by the Boy Scouts of America.
"We are simply doing what we agreed to do in our charter," Schaeffer said.
Finding the right troop
After graduating from Cub Scouts, the next step is to find the right Boy Scout troop. All boys are able to select which troop best fits them instead of being automatically placed based on the schools they attend.
"It's all boy led, it's his choice, but you want to make sure you get the right troop," Steele said. "I wanted to make sure the boys had all the options out there."
"It was like picking a college. You want to be surrounded by the people that are going to help you," Funk added.
Steele says she and her son didn't take into consideration the charter organization that backed the Boy Scout troop.
Boy Scout troops are backed by a charter organization, like a sponsor. Under the charter organization is a committee, the scoutmaster and the assistant scoutmasters of the troup - one of which Steele was striving to become.
The decision was made that Jackson would join Troop 761 - which was chartered by the Christian Fellowship Church, a relatively conservative church.
The Boy Scouts of America organization says it believes that "open homosexuality is inconsistent with the values." It also recommends that scout parents and sponsors share this belief.
But, Steele still drove forward and as Jackson joined the troop, she completed her training to become an assistant scout leader. The training process to become a scout leader usually takes about a year. Steele completed it in three weeks.
Steele approached the scoutmaster, Mike Tucker, to inform him of her partnership of nearly two decades with Funk. He told her there was no problem.
The way Steele and Funk explain it is the reason why her homosexuality was overlooked was due to locality - local organizations can choose to overlook some of the Boy Scouting standards.
Funk says that Steele being a girl has never been an issue, but the Boy Scouts don't like what Funk calls "the three G's - the gays, the girls and the Godless."
The weekend
The issue of Steele being a lesbian didn't arise until one weekend in June during a camping trip to Assateague Island. The camping trip was from a Saturday to a Monday, and Steele needed to work Monday so she asked Funk to pick her up from the campsite.
After both departed, one of the other assistant scoutmasters, Skip Inabinett, started questioning who the woman was who had picked up Steele.
After discovering that Steele's partner had picked her up, Inabinett felt that she should be removed as an assistant scoutmaster. In an email that Inabinett sent to a close personal friend of Steele's and whose son was also in the troop, he stated, "If what you said about Denise Steele being an active sexual is true, do you feel comfortable talking with her about stepping down/resigning as an ASM ... as her friend, this may be an opportunity for you to share with her about Christ's love and the need to believe that as sinners we cannot get to heaven on our own and that we need a savior."
The removal
More communication between both Steele and Inabinett went on for the next couple of weeks. The conversations centered around how Inabinett thought Steele's lifestyle choice was a sin.
Funk described the situation between Steele and Inabinett as bullying, and it left Steele crushed and in tears through the many email exchanges.
"But this guy, who's demonstrated very much a bullying behavior, if boys bullied other boys or girls bullied other girls to get what they wanted the way this guy has bullied her in today's school system you'd probably get kicked out of school," Funk said about Inabinett.
To bring up an issue, there are certain steps of going about it starting with the scoutmaster, then up to the committee and committee chair then to the charter organization. But, according to Steele and Funk, Inabinett went straight to the Boy Scouts of America with his complaint to get her removed as an assistant scoutmaster - and it worked.
"He didn't go through those steps. He skipped over the scoutmaster, he skipped over the committee, he skipped over the district. He went straight to the highest level because that's where he would get his answer. He went to the highest point to get me removed," Steele said.
"A lot of our issue is, I mean it is what it is, she is removed, the issue is while she may be removed because he went about getting her removed because of this policy issue. It's a private organization and they can do what they want," Funk explained. "And she is no longer allowed to be near these scouts. She can't go camping with them and she can't be in a position of participation with them."
But according to Deron Smith, the director of public relations for the Boy Scouts of America, Steele wasn't removed from the national council and it may have been a troop decision. Units determine their own membership, Smith said.
"The [Boy Scouts of America] recognizes that some do not agree with its position on this issue, but values the freedom of everyone to express their opinion and teaches its members to use courtesy and respect at all times," Smith said in an email. "To disagree does not mean to disrespect. The [Boy Scouts of America] will continue to strengthen common interests, while respecting differences and will focus on its mission and on reaching as many youth as possible in order to help them grow into good, strong citizens."
Several attempts to contact Inabinett were unsuccessful.
The aftermath
"There is no next step for us. She's removed permanently. Issues like this get awareness," Funk said. "The only way the Boy Scouts are going to change is if it impacts your wallet, donations go down because of this or they continue to see a drop of enrollment. At some point, if they recognize that their beliefs and their lack of being open and inclusive is affecting them, eventually that's going to be the only way they are going to change."
The big issue both Steele and Funk have with the situation is how it was handled by Inabinett. They both felt bullied, judged and put through emotional turmoil.
"I think it's disappointing - it's a sad day for Boy Scouting. I think the actions are really out of sync of what scouting stands for," Eric Ianson, a friend of Steele's and an Eagle Scout said.
The scout law says a scout should be trustworthy, loyal, helpful, friendly, courteous, kind and obedient, thrifty, clean and reverent, Ianson said.
"I mean, when the leaders of the troop hear that, how does it feel? Were they loyal to Denise? It certainly wasn't kind what they've done to her," Ianson continued. "It absolutely isn't brave.
The brave thing to do would be to take a stand here and say this isn't right, this person has been great to our kids and it's time to stand up for her and be great for her."
Even other assistant scoutmasters from Steele's troop felt it was vindictive, like Joe Leonard.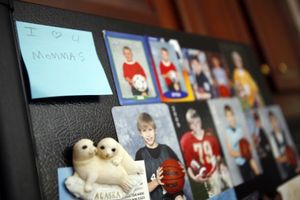 "I saw that he was vindictive and on a witch hunt because he asked her personal friends what her sexuality was. There's no business in that. It's a shame that a good leader for the boys has been removed because of one person who's eccentric when it comes to his religious belief," Leonard said. "It's also a sad not that [Boy Scouts of America] has not or is not willing to entertain what other private organizations have done and their beliefs."
The future
As for what's next for Steele and her son, Jackson says he wishes to continue and make it all the way to Eagle Scout.
Steele's son currently holds 11 merit badges, quite an accomplishment for a 12-year-old.
"Jackson is a very committed scout and doesn't let his mother's issue get in the way," Funk said.