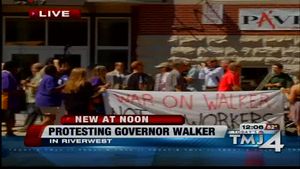 Protesters crowded the street outside Messmer Preparatory School in Milwaukee's Riverwest neighborhood as Governor Walker visited the school Friday to read to children.
The protests came just hours after someone vandalized the school ahead of the Governor's visit.
"Some of these folks super glued our front doors at the prep school," said Br. Bob Smith, OFM, the president of Messmer Catholic Schools, about the school on the corner of North Fratney and East Burleigh Streets.
He told Newsradio 620 WTMJ that a woman was walking in front of the school Thursday, asking people to protest.
According to Br. Smith, one protester said " 'Get ready for a riot,' because they were going to disrupt the visit."
Br. Smith said that, in his opinion, the Republican governor's visit to read to students there on Friday was not about political overtones connected to protests that have been happening all year in the state regarding the rollback of collective bargaining rights for many public workers.
"People ought to start acting like adults," said Br. Smith.
"You've got little kids who have no clue what you're even talking about, and you make something political when it isn't, that's just flat-out wrong."