About psychegram
Born and raised in the verdant forests north of Lake Ontario, with an undergraduate degree in physics from the University of Toronto, I spent years believing in the official truth of 9/11 for no better reason than that I could not believe that, this time around, we were the Bad Guys. Yeah, well, cognitive dissonance is a bitch, and about a year ago while I was in Japan teaching English the walls of my reality started to crack. Alex Jones woke me up, but I didn't stop there, because if I'd been lied to about 9/11, what else had I been lied to about? I kept digging and have been at it ever since, and while firm conclusions about the nature of reality are hard to come by, I know now that reality isn't real, and that Nothing EXISTS. I've become a person I myself wouldn't have recognized, a year ago.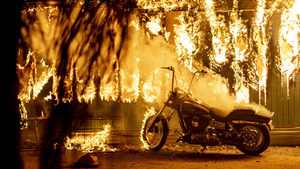 The Woolsey Fire in Malibu, California, November 10, 2018
He who passively accepts evil is as much involved in it as he who helps to perpetrate it. He who accepts evil without protesting against it is really cooperating with it.
- Martin Luther King, Jr.
Recent Comments
A very small part of the whole. The Azores of today were the mountain tops of the larger part of Atlantis.
---
Well, it happened last night before midnight my time (12ish hours ago) so thanks, guys, for the heads-up. :P
---
Two separate issues: • Forest management - nature vs capitalism, usefulness/destruction of wildfires. • Using the known toxic and probable...
---
What's the point of sharing this story, Sott? Because it has "God" in it?
---
I have an idea, I think the judge , democrats and all other people who support letting these migrants into our country should, out of the kindness...