About psychegram
Born and raised in the verdant forests north of Lake Ontario, with an undergraduate degree in physics from the University of Toronto, I spent years believing in the official truth of 9/11 for no better reason than that I could not believe that, this time around, we were the Bad Guys. Yeah, well, cognitive dissonance is a bitch, and about a year ago while I was in Japan teaching English the walls of my reality started to crack. Alex Jones woke me up, but I didn't stop there, because if I'd been lied to about 9/11, what else had I been lied to about? I kept digging and have been at it ever since, and while firm conclusions about the nature of reality are hard to come by, I know now that reality isn't real, and that Nothing EXISTS. I've become a person I myself wouldn't have recognized, a year ago.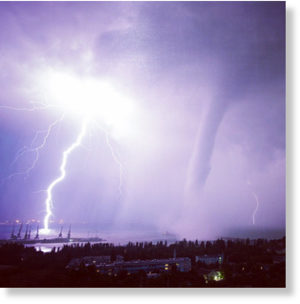 Large waterspout and lightning off Feodosia, Crimea peninsula, Russia. Sept 6th 2018.
Given that China was arguably the leading power in the world from c. 1100-1800, and was certainly the leading power in the East Asian region, one would anticipate that the smaller powers in that region would have balanced against it. But this in fact did not happen. The reply might be in turn that this was because China was the kingpin within the international tribute system, and was therefore an imperialist power. But arguably this system was neither imperialist nor could it be explained through the 'conventional practices' associated with Western great power politics.
- John M. Hobson
Recent Comments
Fucking deep state assholes are trying to bring down the US. The liberals need to be eliminated.
---
Kerry is a fucking traitor who should be in prison. Iran is a nation of deceitful liars (much like the democrats in the US). This just shows how...
---
As I saw in a pro gun protest on a girl's T-shirt, my rights don't end where your feelings begin. This 'issue' actually affected (before the PTB...
---
And for every case like this where the truth comes out about the abuse (basically it's armed kidnapping and extortion) there are literally a...
---
Yea, they are relocating ISIS to Afghanistan. Strange is it not, that where ever the US is active in the MENA, that ISIS and Al Qaeda flourish.