About psychegram
Born and raised in the verdant forests north of Lake Ontario, with an undergraduate degree in physics from the University of Toronto, I spent years believing in the official truth of 9/11 for no better reason than that I could not believe that, this time around, we were the Bad Guys. Yeah, well, cognitive dissonance is a bitch, and about a year ago while I was in Japan teaching English the walls of my reality started to crack. Alex Jones woke me up, but I didn't stop there, because if I'd been lied to about 9/11, what else had I been lied to about? I kept digging and have been at it ever since, and while firm conclusions about the nature of reality are hard to come by, I know now that reality isn't real, and that Nothing EXISTS. I've become a person I myself wouldn't have recognized, a year ago.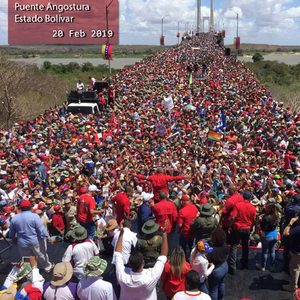 20 February 2019: Pro-Maduro demonstration on Angostura Bridge in Bolívar state, Venezuela
A man may die, nations may rise and fall, but an idea lives on.
- John F. Kennedy
Recent Comments
Aka "random guy" [Link] lol. Also from MoA: The Branson 'Live-Aid' Concert garnered 20,000 or less as opposed to the 200,000 claimed by WaPo. I...
---
Trump said MAGA, not MEGA.
---
On-Going coverage [Link] And then we ve got idiots like this [Link] RIP Little One
---
John Pilger is a hero (and I don't generally believe in 'heroes'), a great documentary filmmaker and a high-quality truthtelling reporter who is...
---
Inadvertantly? My ass and buttermilk! R.C.