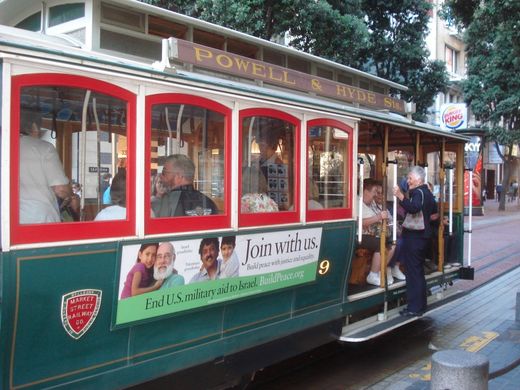 Campaign to end US aid to Israel expands to San Francisco cable cars
A new series of ads calling for an end to U.S. military aid to Israel now greets commuters, tourists, students, and shoppers traveling on the San Francisco Bay Area's public transit systems.
The ads, part of a growing national campaign, went up this week on the Powell Street cable car, a popular tourist attraction in downtown San Francisco; in three of the busiest stations on the Bay Area Rapid Transit (BART) - San Francisco's Civic Center, 12th St. Oakland, and Downtown Berkeley; and on the Muni level of the Embarcadero station in San Francisco. Next week the same ad will be posted in the 16th St./ Mission station in San Francisco.
Chief sponsor of the local ad campaign is Northern California Friends of Sabeel, the local affiliate of an international peace movement initiated by Palestinian Christians to bring justice and peace to the Holy Land through non-violence and education. Co-sponsors include Jewish Voice for Peace, American Muslims for Palestine, the Middle East Children's Alliance, and Bay Area Women in Black.
The new ads now feature photos of Jeff Halper, a Minnesota-born Israeli professor; Salim Shawamreh, a Palestinian construction supervisor born in Jerusalem; and a grandchild of each. Halper is co-founder and coordinator of the Israel Committee Against House Demolitions (ICAHD); Shawamreh's Jerusalem home has been destroyed by Israeli wrecking crews, then rebuilt by volunteers organized by ICAHD, four times since 1998. The two men and their families have become close friends. They have toured the U.S., Canada, and the United Kingdom, speaking out against Israel's 44-year occupation of the Palestinian territories.
A previous round of similar ads in BART stations not only garnered considerable coverage in the local media, but also provoked a series of counter-ads sponsored by an Israel Lobby organization called Stand With Us. In response to complaints about those ads, BART removed them on the grounds that they appeared "disparaging or demeaning to Palestinians as a whole" and violated the district's advertising standards; they were then replaced with new ads accusing the Palestinian leadership of "teaching hate and violence."
Shortly afterwards, a group of anonymous activists surreptitiously posted unofficial - i.e., not paid for - ads in several BART stations calling on passersby to help "Stop Israeli Apartheid" and to "Boycott Israel."
Northern California Friends of Sabeel's campaign is part of an initiative launched in October 2010 by a Chicago-area community group called the Committee for a Just Peace in Israel and Palestine. Since then similar ads have appeared in transit stations, on buses, or on billboards in Washington, DC; Boston, MA; Arizona State University, Phoenix, AZ; and Albuquerque, NM. More cities are planning their own campaigns soon.