The price of food in New Zealand has gone up 46.4% over the past 10 years: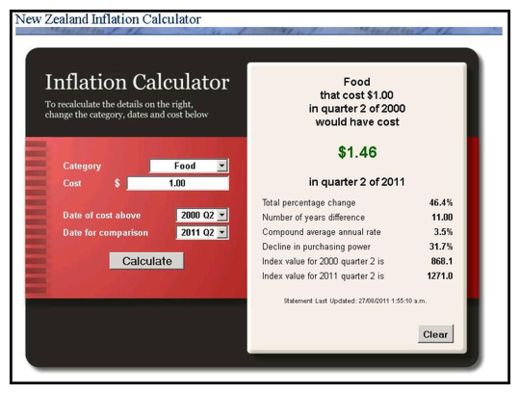 The
Wairarapa Times-Age
(has your subscription lapsed, too?)
has details
of year-over-year inflation.
Biggest increases:
Broccoli up 66.6 per cent
Tomatoes up 34 per cent
Lettuce up 20.7 per cent
Cabbage up 19.6 per cent
Peaches up 13.5 per cent
Yoghurt up 14.7 per cent
Breakfast cereal biscuits up 8.2 per cent
Lamb chops up 6.9 per cent
Chocolate biscuits up 6.6 per cent
Sausages up 4.4 per cent
News site
Stuff.co.nz reports
that the country's nutritionists find the high prices "incredibly alarming," as they believe the increases will push people to cheaper, less healthy fast food.
But, perhaps equally alarming is the spate of "dine-and-dash"incidents now occurring across New Zealand. Could the trend be due to the increased cost of food?
From
The New Zealand Herald:
Dishonest diners are enjoying their meals then fleeing without paying - forcing some restaurants to take defensive measures such as asking patrons to pay before they eat.

In one Auckland dine-and-dash incident at the weekend, a "waddling couple" were caught but became so incensed that one of the well-dressed women slapped the restaurant owner who was trying to get them to pay.

[...]

Auckland's new Wynyard Quarter waterfront area has many restaurants with outdoor seating - one diner told the Herald he was told by a waitress he would have to provide his credit card before being served because of more than 100 eat-and-run incidents in recent days.
One restaurant owner
says
"they decided to turn to a pay-then-dine method 12 years ago when they were losing $500 a day in unpaid bills."
Another was unpleasantly surprised by his produce bill.
"To be honest, tomatoes caught us a little bit," The price rise was a lot more than I would have anticipated," Harbourside Restaurant manager Peter Ward tells
the Bay of Plenty Times.
Of this, Horticulture New Zealand president Andrew Fenton
offers an explanation:
"The increase in GST and increases in costs of petrol and energy merged with the effects of a shortage of product out of Australia, due to the Queensland floods, and then poor growing conditions in New Zealand pushed up normally high winter vegetable prices for tomatoes, lettuce and capsicum to new heights for Kiwi customers."
While empathizing with consumers over the price hikes, Fenton made clear "the harsh reality of the market."
"We take the best price we can get, and we make no apology for it. We are not a charity. We are a business."