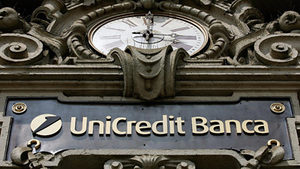 Trade in shares of Italy's largest bank has been suspended - as it emerges that events in Libya have helped prevent a collapse of the Italian banking system.
UniCredit's share price has plunged in the past month because of market fears over eurozone debt - and now share dealing has been halted due to volatility.
Although it may sound far-fetched, the Libyan revolution of the past six months may have saved it and other Italian banks amid the crisis.
The tale of Libya and its Italian bank investment adventure underlines just how far the Gaddafi clan's influence reached in financial markets throughout the world.
Libya's wealth comprised a range of assets, including gold, oil and sovereign wealth fund investments.
Just how much of these are returned to any future government remains to be seen - but if you look at the extensive investments in Italy, you can find a prime example of where the Libyans have already lost out.
According to documents uncovered by
Global Witness
, the Libyan Investment Authority's biggest investment was in Italian bank Unicredit.
The choice is not accidental - Italy was Libya's colonial parent, the legacy of which is extensive financial and political connections.
Through three of its sovereign wealth funds - the LIA (the most above-board), the Central Bank of Libya and the Libya Foreign Bank (these two were able to invest slightly more secretively) - the regime amassed some 1.4 billion shares in UniCredit.
The Libyan sovereign funds brought their investment in the Italian bank to their current level in early 2010.
Then the second wave of the financial crisis struck, just as the Libyan investments were frozen throughout Europe, preventing Tripoli's investment officers from pulling out their cash.
In February, the combined stake was worth 2.8bn euros. Today, it is worth a mere 1.2bn euros.
That is a collapse of almost 60% - and the fall is sharper still if you go back to early 2010, when the investments reached their current volume.
Had the Libyan assets not been frozen, one suspects the Gaddafi family might have sold their Unicredit investment, whether because of the bank's deep troubles or because of their need to free up resources for their fight against rebels.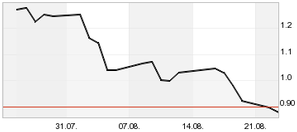 However, the upshot of the freeze was that Unicredit (which, when the European authorities performed stress tests on their banks had one of the worst balance sheets in the area) was able to rely on its biggest aggregate shareholder not selling its stake and pushing its share price down further.
It is impossible to know how much impact this had on the Italian bank - even a 7.2% stake cannot prevent the remaining 92.8% of shareholders selling out if they so choose.
But the unintended consequence was at least a small relief for the Italian bank as it battled the second wave of the financial crisis. Not to mention a crippling loss for the Libyan sovereign wealth funds.