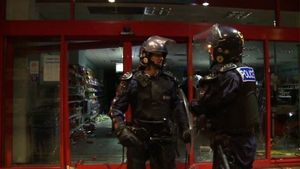 In a move that calls to mind the start of the most serious unrest in nations across the Middle East over the last year, David Cameron, Britain's prime minister, told Parliament Thursday that authorities may shut down social media websites like Facebook and Twitter, in hopes that it would return calm to their streets.
The remarks came one day after British authorities discussed turning off the messaging function on BlackBerry phones, which they suggested may remove a tool protesters and rioters were using.
"Everyone watching these horrific actions will be struck by how they were organized via social media," Cameron told Parliament. "Free flow of information can be used for good. But it can also be used for ill.
"So we are working with the Police, the intelligence services and industry to look at whether it would be right to stop people communicating via these websites and services when we know they are plotting violence, disorder and criminality. I have also asked the police if they need any other new powers."
Cameron added that he'd considered sending in the British military to quell the rioting, and that he's provided police with additional powers, such as the ability to order youths to uncover their faces. The order is likely tied to the
widespread use of facial recognition technology
, which has been employed by police to help identify rioters.
"We need to show the world, which has looked on frankly appalled, that the perpetrators of the violence we have seen on our streets are not in any way representative of our country -- nor of our young people," he said.
Britain is still reeling after four of the worst nights of rioting for decades, which started in London then spread to other cities including Manchester and Birmingham after police allegedly killed a young man named Mark Duggan, a father of four, who they claimed was involved in a drug deal.
Across the Middle East, brutal, authoritarian regimes took similar action against communications in the face of unprecedented unrest, blocking Facebook, Twitter, and in many cases cutting off Internet and mobile phone access altogether, but each successive step only made the regimes' problems worse.
A number of Britons have already been arrested,
allegedly for trying to incite riots via Facebook
. Social media has also been used by Britons who sought to
clean up after the rioters
, and still others have begun using it to
help identify offenders
.
Whether the British government would cut off access to the services entirely or just for individual users was not clear, but it is unlikely that they could block individuals identified among the rioters, as the technology and sheer complexity of such a task would just compound as the project goes on.
Add the authorities' inability to prevent access to sites through proxy servers or other traffic-hiding software like
Tor
and the likelihood that they're contemplating a complete disconnect only grows.
With Agence France-Presse.