This picture shows the shocking depths the thugs were prepared to plumb - stealing the clothes from a man's back.
The taller, broader man already holds a pair of white and green trainers and a white T-shirt in his hands. Now, it seems, he wants the trousers too.
The shorter man dutifully removes his jeans, leaving only his dark blue underpants and his white socks.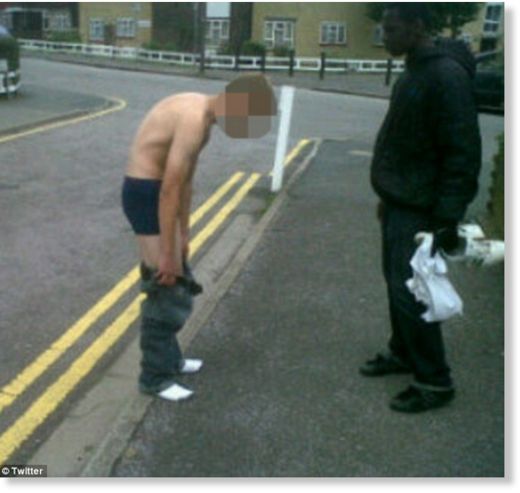 The image appeared on Twitter as internet rumours claimed that, on top of widespread violence and looting across London, thugs were even removing clothing from their victims.
Several people on Twitter claimed there have been incidents of victims being stripped naked in Deptford, South London and Birmingham but, because of the very nature of the alleged incidents, the reports remain unsubstantiated.
In the photograph the 'victim' - his face pixellated - stands on the kerbside in a quiet side road and appears cowed before the other man after handing over his clothing.
Twitter and other social networking sites have helped to give a vivid visual account of the riots.
One shocking video showed an unnamed teenager being apparently assisted by kind-hearted passers-by after being spotted injured and bleeding on the ground.
But seconds after the vulnerable boy is helped up, callous looters instead start rifling through his rucksack.
With over a dozen thugs standing nearby, the teenager tries to stop the bleeding from his head as thieves continue the daylight robbery.
It is one of countless photos and videos that have been posted - sometimes almost instantly - to document scenes such as this one. Some of them were posted by the rioters themselves, others by innocent witnesses.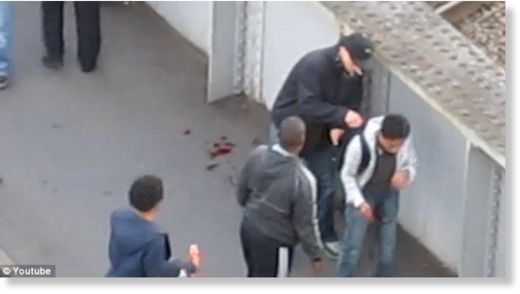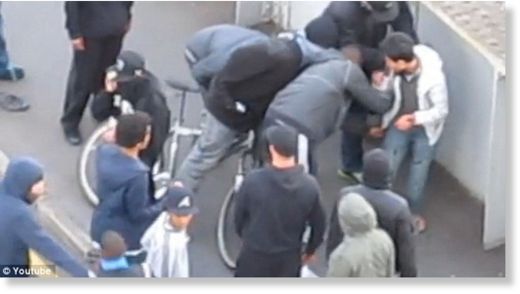 But as well as providing a chronicle of the events, posts on Twitter have helped organise the disorder. Rioters and looters have tweeted to help mobilise large mobs bent on destruction
But Twitter yesterday refused to shut down the accounts of any of the rioters using the service to incite hatred or violence, saying that the tweets must continue to flow.
A Twitter spokesman explained the company's attitude to the rioters' use of the service by referring to a blog post written by the service's co-founder Biz Stone at the start of this year.
The post, which is entitled 'The Tweets Must Flow', says: 'Our goal is to instantly connect people everywhere to what is most meaningful to them. For this to happen, freedom of expression is essential.
'Some tweets may facilitate positive change in a repressed country, some make us laugh, some make us think, some downright anger a vast majority of users.
'We don't always agree with the things people choose to tweet, but we keep the information flowing irrespective of any view we may have about the content.'