Supporters of former Ukrainian Prime Minister Yulia Tymoshenko have started an indefinite sit-in to protest her detention until she is released.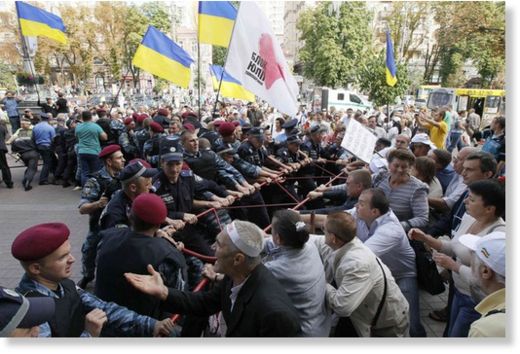 Over 100 supporters, including members of parliament, have pitched about 30 tents near the courthouse in Kiev, vowing to continue their sit-in until Tymoshenko is released, AFP reported.
Meanwhile Tymoshenko's right-hand man, Olexander Turchinov, has said the protests could lead to a repeat of the 2004 Orange Revolution that could be victorious by September.
Ukrainian prosecutors have charged Tymoshenko with abuse of office, accusing her of illegally forcing state energy company Naftogaz to sign a gas supply contract with Russia in 2009.
The former prime minister has repeatedly denied the charges, saying that the trial is part of a plot devised by her archrival, President Viktor Yanukovych.
The judge in her trial ordered her placed under arrest for contempt of court on Friday.
The current charges carry a sentence of between seven and 10 years in prison.
Over 400 officials are currently on trial in Ukraine, but Tymoshenko is the most prominent figure being prosecuted.