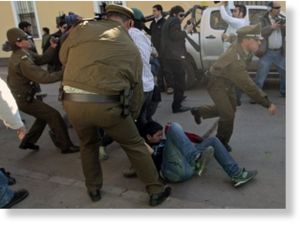 It has been a bittersweet anniversary for Chile's rescued miners, who were honored as heroes in their hometown only to come under attack by anti-government protesters who threw fruit and small stones at them, accusing them of being ungrateful, greedy sellouts.
Chilean President Sebastian Pinera and his ministers joined most of the 33 miners Friday at a Catholic Mass and then the inauguration of a regional museum exhibit recognizing their remarkable survival story.
But the events were marred by scuffles between riot police and students, teachers, environmentalists and other miners, all trying to make Pinera bow to their pressure on issues from reforming public education and increasing miners' pay to stopping controversial dams and power plants.
Some of the activists threw oranges and apples at the miners, accusing them of getting too cozy with Pinera's government and trying to cash in on their fame.
The treatment shocked rescued miner Omar Reygadas into silence. His son told The Associated Press in an interview that his father was deeply hurt to be accused of selling out to the government. Other activists shouted that the miners were trying to get rich with their $17 million lawsuit accusing Chile's mine regulator of failing to enforce safety requirements.
"My father was saddened, deeply saddened. He doesn't understand how people could act this way," said his son, also named Omar Reygadas. "When I got home I found him sitting alone, very sad. I asked him what happened and at first he wouldn't say anything, but gradually he let on what happened."
Some Chilean newspapers called the attack a low blow, especially considering how many of the miners still suffer from psychological problems after being stuck for 69 days underground.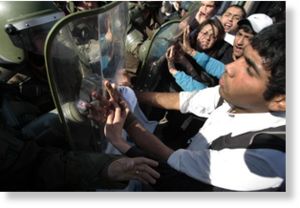 "They aren't heroes ... they're victims who are simply trying to recover from their tragedy,"
El Diario de Atacama
, Copiapo's hometown newspaper, printed Saturday under a picture showing riot police with a confiscated box of oranges and apples activists had thrown at the honorees.
"We have become accustomed to judging the 33 of Atacama, forgetting that they've only been victims of the terrible circumstances that confront hundreds of Chileans every day."
Psychologist Alberto Iturra, who was part of the medical team that participated in the mine rescue, criticized the incident, saying the attack on the miners was "irrational, crazy."
He said the incident is "part of a process of alienation - which implies not distinguishing spaces, people or anything, not being conscious of what they're doing - that the students suffer from."
The miners were clearly grateful for Pinera's leadership of the rescue mission, which succeeded in bringing them all out alive more than two months after the Aug. 5, 2010 collapse. "I wouldn't be here talking with you today" if Pinera hadn't become personally involved, miner Jose Fuentes told the AP. "We were down there praying that he would do it."
But Pinera's ministers also are defending the government against the miners' suit, saying that they have to protect the Chilean taxpayers.
Pinera's popularity has plunged to 26 percent, the lowest of any president since Chile recovered its democracy in 1990, as protests have roiled the country. Environmentalists hope to block hydroelectric dams in southern Patagonia and a huge coal-fired energy plant in northern Chile. Unionized miners have briefly paralyzed the nation's largest copper mines, costing companies millions of dollars in lost production. Mapuche Indians have occupied ancestral lands, setting off violent confrontations with police and landowners. Striking high school and university students have taken over their schools and stopped classes for more than two months.
At the museum on Friday, Pinera appealed for an end to the unrest.
"The time of the protests, the strikes, the takeovers, the violence has passed. Now has come the time to construct and not keep destroying, the time of dialogue and not of intransigence; the time of solutions and not of confrontation, the time of unity and not of division," Pinera said.