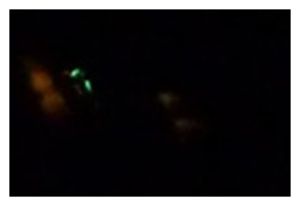 Only a day after the
last reported UFO sighting
in the Northern Territory a Katherine man has not only seen a mysterious object in the sky - he also
took photos of it.
David Schuman was having dinner with his boss Phil Richardson near Katherine's Strongbala Men's Healing Centre last Tuesday when an "unusual large star" caught their eyes.
"We were both seated around the dinner table, discussing various subject matters and running through the day's events when all of a sudden the boss changed the subject and said in a slightly raised tone 'Hey, that's an unusually large star - I have never seen one as big as that before and in fact that's too big for a star, what is that?," Mr Schuman said.
"Through the open window we saw a very large brightly lit object and it just stood there, hovering there for 20 minutes or more, and motionless above the tree line."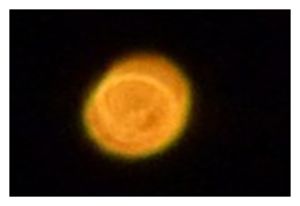 Mr Schuman said he walked outside for a closer look, before grabbing his camera.
"I usually carry my camera with me where ever I go - even in the shower, because you never know," he said.
"There was a real glowing about the object and it was very bright and every picture that I took was done with a degree of urgency about it when it started to move."
Mr Schuman said in a later "examination" of his photos he came across what seemed "to display two aura rings within the brightly lit up orb".
The UFO spotter said he also saw what looked like "a fuzzy triangular shape enclosing the object within, which seemed to be cloaking it's outer edge".
"One area at the end of the craft (had) what I perceive to be two hot spots are a fuzzy silvery grey.
"The other end of the craft on the other hand appears in colour to be of a fuzzy dullish orange," Mr Schuman said.