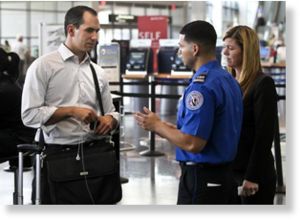 How did Logan travelers handle the new TSA queries? Plenty welcomed the safety measure; others were nervous, self-conscious
Andrew Timko doesn't have anything to hide.
But the 29-year-old Northwestern University graduate student isn't thrilled about the enhanced-behavior detection trial program that began yesterday at Boston's Logan International Airport.
In an effort to identify potential terrorists, Transportation Security Administration officers being trained in Terminal A, home to Delta Air Lines, are now asking every passenger several questions about their travels, such as "How long have you been here?'' If the reaction - for example, profuse sweating or lack of eye contact - is deemed suspicious, the person will be tapped to undergo additional screening, such as a pat-down or bag search, after going through a metal detector or full-body scanner.
Timko, who flies from Boston to Newark every week as part of his internship at the management consulting firm Bain & Co., said he didn't mind the TSA officer's questions about his job and his Illinois driver's license. But he said his tolerance may wear thin if he has to undergo a brief interrogation every time he goes through security.
"It's going to get old if I have to answer the same questions every week,'' he said. "That seems like it's really going to slow things down.''
The added queries didn't slow traffic at security checkpoints yesterday afternoon at Logan - the first airport in the country to launch the test program - or appear to prompt a barrage of complaints.
After a two-week training period and 60 days of real-time testing, officials said, they will evaluate the program's effectiveness and determine whether to make mandatory questioning a permanent fixture at airports across the country.
Until today, Logan's behavior detection program - which in 2003 was the first to be instituted among 160 airports across the country - consisted of TSA officers questioning only passengers who appeared to be suspicious, such as those wearing a winter coat in summer. The program has come under fire from the American Civil Liberties Union, which has said it increases the likelihood of racial profiling.
People who travel internationally are used to undergoing questioning from customs agents, as are those who have used Ben Gurion International Airport near Tel Aviv. At that airport, every passenger is interviewed before being allowed to board a plane.
Although most passengers interviewed by the Globe at Logan yesterday said they welcomed the questioning as an additional safety measure, it did cause some apprehension.
Bridget Whitehead, 24, who was flying back to Cincinnati after attending a friend's wedding at the College of the Holy Cross in Worcester, couldn't immediately remember how long she had been in the area.
"I was kind of nervous,'' said Whitehead. "When people are on vacation, they kind of just lose track of time.''
Her behavior apparently wasn't enough to prompt an extra TSA screening.
Alice Lippitt, 28, of Seattle, who was here for the Newport Folk Festival, said being questioned can sometimes make people act guilty for no reason.
"I can definitely get into situations where I feel like I'm being grilled and automatically I'm on the defense,'' Lippitt said. "And that doesn't look good.''
For most travelers, the interaction lasted 20 or 30 seconds, but Ryan O'Malley, 36, who was on his way to San Diego, struck up a longer conversation with one of the TSA officers when he realized they both knew people at the sheriff's office in Worcester.
Still, he knew the TSA officer was doing more than making small talk.
"I did notice him kind of focusing on how I was acting, because he really, really made a lot of eye contact, seeing if I was shifty or not,'' said O'Malley.
After about a minute, they shook hands and O'Malley, deemed not shifty, was allowed to go on his way.