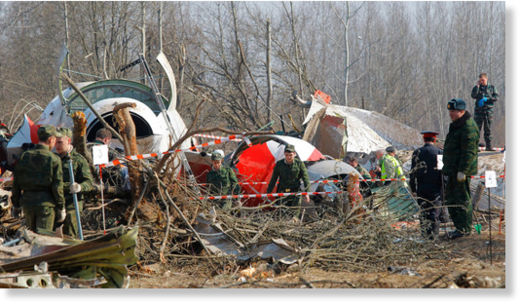 Russian investigators have rejected some of the key findings of a Polish report into the crash that killed Polish President Lech Kaczynski in April 2010.
A Tu-154 plane carrying Kaczynski, his wife and a host of top officials crashed in heavy fog as it attempted to land at an airfield near the western Russian city of Smolensk. The delegation was flying to Smolensk to mark the 70th anniversary of the 1940 Katyn massacre of thousands of Polish officers by Soviet secret police. All 96 people on board the plane died.
Both Poland and Russia have carried out investigations into the crash, and the probe has seen a rise in the tensions that briefly subsided in the aftermath of the tragedy. Poland released its final report on the crash last Friday.
Russian investigators from the CIS Interstate Aviation Committee (MAK) dismissed the report's assertion that the presence of Poland's air force chief in the cockpit as it tried to land was not a source of pressure on the crew. It also said Russian air traffic controllers could not be blamed for the crash
The head of MAK's technical committee investigating the crash, Alexei Morozov, said that air force chief Andrez Blasik had said the pilot would be in trouble if the aircraft did not attempt a landing at Smolensk, and had taken on a controlling role in the flight.
"This may, and must, be assessed as psychological pressure," Morozov said, adding that flight recordings indicated the pilot knew he would be punished if he did not try to land.
MAK also said that the lighting and radar equipment at the Smolensk airport were suitable for accepting flights of all types of aircraft, including the Tu-154. It also questioned the wisdom of members of the Polish team that looked into the crash also being involved in the parallel criminal investigation.
MAK said, however, that it agreed with the Polish report's findings that the main cause of the accident was the crew's decision to press on with the approach and not overshoot at the correct height.
The main cause of the crash was the crew's failure to decide to overshoot and make a second approach, Morozov said. "They needed to have taken the correct decision [to go round] at a hundred meters altitude," he said.
Morozov said the crew had taken the "wrong decisions."
Whatever shortcomings the Smolensk-Severny airport had could not have been a factor in the crash, MAK said.
"The Smolensk-Severny airport had a valid operating license issued by the relevant Russian authorities," Morozov said.
Contrary to the Polish report, it was not run on a temporary basis, he stressed.
MAK said Russian air traffic controllers could not be blamed for the crash.
All "deviations" in their handling of the flight, specifically the information provided by the chief traffic controller on the landing area, were identified, Morozov said.
However, none of them could have caused the crash, he stressed.