Thousands of angry demonstrators from across Spain finally arrived in Madrid at the weekend to protest over the country's debts and unemployment queues.
They had marched for a month from their hometowns before converging on the landmark Puerta del Sol Square to show their anger at the country's economic woes.
Five columns converged on the 'urban village' next to the town hall where some protestors had camped out for three weeks in May under blue plastic tarpaulins.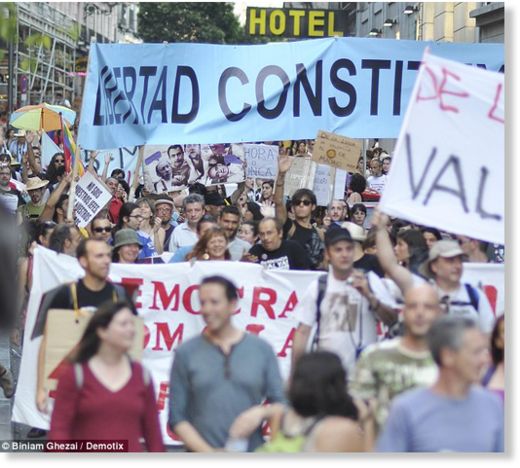 The marchers set off from Barcelona and Bilbao in the north, Malaga in the south, Valencia in the east and Cadiz in the south west on June 25.
Several dozen demonstrators stopped outside Prime Minister Jose Zapatero's official residence just north of Madrid to wave banners and chant slogans.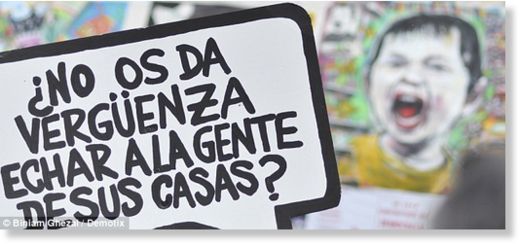 Another group halted traffic on a highway entering Madrid from the north.
During the marches to the capital, physiotherapists travelling in support vehicles helped the protesters keep their leg muscles in shape, while sympathetic paramedics treated blistered feet.
The protesters joined the 'urban village' of tents, mattresses, a kitchen, a workshop and even a pharmacy which had been set up for thousands of young people.
Marchers said the protest aims to emphasise young people's 'indignation' at high unemployment and a political leadership they see as uncaring, corrupt and inept.
Two years of recession have left Spain with 21 per cent jobless- the highest in the 17-nation eurozone - and saddled with debts.
Unemployment for those aged 16 to 29 stands at about 35 per cent.
Calling for 'Real Democracy Now,' the protests popularly known as M-15 began on May 15,condemned Spain's economic crisis, politicians in general, and corruption.
Seven cross-country marches set off from cities across the country at the end of June, including Barcelona, Malaga and Valencia, to applause from sympathisers.