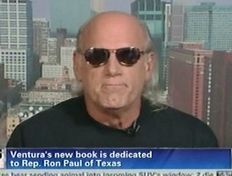 Former Minnesota Governor Jesse Ventura lambasted Friday at a federal court hearing "un-American" security procedures implemented at airports across the nation in 2010.
He filed a lawsuit with the Transportation Security Administration in January, claiming their use of pat down searches at airport security checkpoints is unconstitutional. Pioneer Press reported that a lawyer for Ventura argued in federal court that the searches violate his Fourth Amendment right against unreasonable and unwarranted searches.
The Justice Department has filed a motion to have the lawsuit dismissed, claiming that the searches are legal and that they can only be challenged in a federal appeals court.
"In a free country, you should never feel comfortable being searched," Ventura told the Justice Department lawyer Tamara Ulrich. "This is not the country I was born in. We're a fascist nation now."
The former professional wrestler had a titanium hip implanted in 2008 that sets off metal detectors at airport checkpoints. Since 2010, new TSA procedures require him to undergo invasive physical pat down searches when he sets off the device.
The body imaging scanners and pat down procedure implemented by the TSA have received intense scrutiny amid reports of travelers feeling humiliated and traumatized.