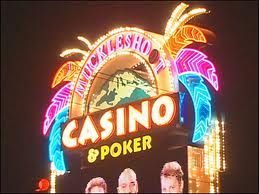 Seven people were wounded, at least two critically, when a gunman opened fire at a casino near Seattle, authorities said.
Auburn Police Commander Jamie Sidell said the shooting happened at a nightclub inside the Muckleshoot Casino at about 1:30 a.m. PDT Sunday.
An armed, 42-year-old Covington-area man entered the club looking for a woman who was possibly his wife or girlfriend, Sidell said. He discovered her with another man and shot them both.
The man then fired multiple rounds, hitting five more people, Sidell said.
He started to flee the club, but a security officer tackled him. The man was detained and has been arrested, Sidell said.
Harborview Medical Center spokeswoman Susan Gregg said four of the victims - three women and a man - were brought to her Seattle facility, about 30 miles north of Auburn. She said two were in critical condition and two were serious.
The other three shooting victims were transported to Valley Medical Center in Renton, which declined to release information on their conditions Sunday.
Two other people received minor injuries while trying to flee the scene with the rest of the crowd, police said.
No names were released. Sidell said the suspect likely would have an initial court appearance Monday.