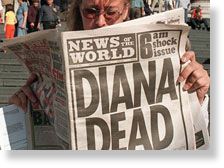 London: A French court is said to have reopened
Princess Diana's death probe
by seeking to question two former top
British police
officials over allegations that they withheld "crucial evidence" about the
Paris
car crash which killed her in 1997, a media report said.
French Judge Gerard Caddeo wants to interrogate former Scotland Yard chief Lord Condon and ex-Assistant Commissioner of Metropolitan Police Sir David Veness why they had failed to disclose the existence of a note in which the late Princess of Wales predicted her assassination, the Daily Express said.
Under French law, "removing or concealing" evidence, which could "facilitate the discovery of a crime", is punishable by three to five years in jail, it said.
In fact, the note, taken by Diana's lawyer Lord Mishcon, was handed to the officers a few months after the 1997 Paris tunnel crash which also claimed the lives of her boyfriend Dodi Al-Fayed.
The lawyer's document records the line: "Efforts would be made if not to get rid of her (be it by some accident in her car, such as a pre-prepared brake failure or whatever)... at least to see that she was so injured or damaged as to be declared unbalanced."
But it was more than three years later before it emerged that UK officers had locked the note in Lord Condon's safe at Scotland Yard. When Lord Condon stood down as the Met Police chief, his successor too kept its existence a secret.
A source close to Paris probe said: "Everyone assumed that with the end of the British inquest, the investigation into Diana and Dodi's deaths was closed. But this has blown it wide open again. Judge Caddeo is determined to get to bottom of what happened with the Mishcon note."
A Scotland Yard spokesman said: "We are not prepared to comment."