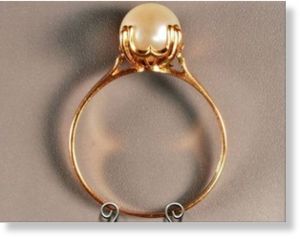 DuPage County sheriff's officials sought to reinvigorate their investigation into one of the suburbs' most haunting unsolved mysteries Thursday by disclosing a "critical" clue - a pearl ring - in the 1985 murder of Kristy Wesselman.
Authorities said they believe the 15-year-old's killer took the antique gold ring from Kristy's left hand after raping and stabbing her 26 years ago this week in a field near her home near Glen Ellyn.
For decades, the family heirloom remained a closely kept secret - one police hoped would eliminate false confessors and ultimately lead to a suspect. But now they're reaching out to the public, asking anyone who may have seen or been given the ring - size 4½ with a chip in the pearl - to come forward.
"At this point, with 26 years since her murder, the benefits outweigh the risks," detective Sgt. Robert Harris, who is lead investigator on the cold case, said of disclosing the evidence for the first time. "We feel that sharing this important information ... is critical to gaining the suspect's identification."
Kristy was killed the afternoon of July 21, 1985, as she walked a path through a field south of a former Jewel store toward her home, after buying a bottle of soda and a chocolate bar she planned to share with her mother.
In subsequent years, police pursued dozens of suspects and leads - only to come up short at each turn.
At a news conference Thursday, Kristy's mother, Sandy Wesselman, joined police in pleading for members of the public to come forward with any information that might be relevant.
"There's a man out there who thinks he got away with murder," she said. "Please take help us take away his dream. He stole all of Kristy's."
Thursday's announcement coincided with the launch of a new round of canvassing in Kristy's old neighborhood.
Harris said seven teams of investigators would be in the Valley View subdivision in coming weeks to interview about 120 homeowners who lived there when Kristy was killed and remain there still.
He asked locals to think back about any changes in behavior they might have noticed among family, friends and acquaintances during the time of Kristy's death, such as increased drug or alcohol use, impulsiveness and depression. He said the killer also might have taken an interest in Kristy's case - or even visited her gravesite.
"We strongly believe that this killer was from the area and that somebody has a bit of information they can give to us," he said. "We know from the past that it can often be the hardest thing to come forward, especially if you're going to be giving information about a loved one. We feel, though, that enough time has gone by, and we've turned over enough stones."
Sheriff's officials also are offering a $10,000 reward to anyone who provides information that leads to an arrest and conviction.
Sandy Wesselman said she is hopeful a break will come from it.
"You may have heard something, you may have wondered about something. But you haven't called the sheriff's department because you're not sure," she said. "Forget not being sure. Let the detectives decide. We need your help to close this case and give closure to my family."
Harris said the killer's DNA, recovered from the crime scene and entered into a national law enforcement database 11 years ago, is checked against profiles of convicted felons every week.
He said police routinely receive tips about the case, with roughly 25 last year and another just a couple weeks ago.
"We believe that Kristy's case is solvable," Harris said. "We understand that some people who realize they may have information may feel guilty about not having called sooner. We realize life's circumstances change, and this might be the time for you to come forward."
Wesselman described her daughter as a "beautiful, gentle little girl" who had a life filled with potential.
She said she still remembers telling Kristy to be careful and that she loved her as the teen walked out of the house that last time.
"On the day of Kristy's funeral," she said, "I silently promised her that I would never stop trying to find the person who killed her. I didn't know it was going to be a lifelong process."