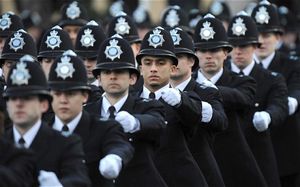 More than 34,000 police staff will lose their jobs by 2015 as part of Government cuts.
Her Majesty's Inspectorate of Constabulary said that about 16,200 police officers will be axed by 2015 amid fears crime could go up by 3 per cent.
Up to 1,800 community support officers and 16,100 police staff will also go as part of an overall reduction of 14 per cent, the study of 43 forces across England and Wales said.
Protecting frontline policing will be "very challenging" over the next 18 months, inspectors found.
"Forces will have to transform their efficiency if they are to protect frontline services," the report added.
Roger Baker, of HMIC, said it "went without saying" that forces were facing their biggest financial challenge in a generation.
HMIC chief Sir Denis O'Connor added: "The police service must adapt to these changing times in order to deliver the best deal for taxpayers and they will need some support to do this."
Earlier this year it was reported 10,000 police officers in England and Wales were to be cut over the next two years according to figures obtained by the Labour Party.
Shadow home secretary Yvette Cooper said the job losses showed the "shocking and brutal reality" of the Government's spending cuts.
The spending review set police budget cuts at 20 per cent by 2014-15.
Ms Cooper was quoted in various reports saying: "These figures show the shocking and brutal reality of the 20 per cent police cuts.
"Far from protecting frontline policing as ministers promised, over 10,000 police officers are being cut in the next few years alone.
"That's 10,000 fewer police officers fighting crime, solving serious cases, or keeping our country safe.
"Cutting so fast and so deep into police budgets is crazy. It is completely out of touch with communities across the country who want to keep bobbies on the beat," said Ms Cooper.
"How do they think it helps the fight against crime to force so many experienced police officers onto their pensions or trained police community support officers onto the dole, leaving the rest of the force overstretched as a result?
"Chief constables are being put in an impossible position. They are working hard to fight crime, but the government is pulling the rug from underneath them."
The Government has said it aims to avoid any reduction in the visibility and availability of police on the streets.
It has said what matters is not the total size of the police workforce but the efficiency and effectiveness of its deployment.