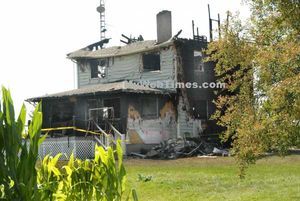 La Salle County authorities believe the deaths of a mother and her two sons in a house fire Thursday in rural Streator were a murder-suicide.
Jennifer Shepard, 36, and her sons, Jordan, 11, and Jake, 9, were found dead by firefighters in an upstairs bedroom of their home Thursday afternoon following a fire that was believed to be intentionally set by the mother.
Preliminary autopsy results Friday revealed the boys were stabbed and the mother had cuts on her arms. A knife was found at the scene and is believed to be involved in the incident.
Authorities found evidence of an accelerant in the house, located four miles east of Route 23 on 18th Road.
Bernard said information from her office's forensic investigation and evidence recovered from the fire affirmed the deaths of the two boys were the result of homicide and the death of Jennifer to be suicide.
Coroner Jody Bernard said the actual cause of death awaits further forensic testing and toxicology results.
Jennifer's husband and the boys' father, Gary Shepard, found the farmhouse on fire when he arrived home from work in Pontiac at approximately 3:15 p.m. Thursday and called 911. Shepard told authorities he tried to enter the burning house to rescue his family and was forced back by the flames.
When firefighters arrived, the house was fully involved in smoke and fire. Firefighters from seven area departments assisted before the fire was contained.
The three victims were pronounced dead at the scene by an official from the coroner's office.
Because both boys were students of the Grand Ridge Elementary School District 95, Superintendent Dave Mathis opened his school's doors Friday afternoon to offer students and parents access to professional grief counselors and social workers.
Mathis said he knew the family and the third- and fifth-grade boys, were "your average good kids." He called the event a tragedy for the entire Grand Ridge community.
The incident remains under investigation by the La Salle County Sheriff's Office, the coroner's office and the State Fire Marshal's Office.