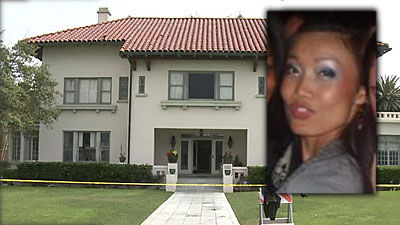 The girlfriend of a prominent pharmaceutical executive was found bound, nude and hanged from a balcony at his mansion near San Diego, and homicide detectives said on Thursday they have not ruled out suicide.
The body of Rebecca Nalepa, 32, was discovered on Wednesday morning at the seaside home of Medicis Pharmaceutical Corp founder and CEO Jonah Shacknai in Coronado, an upscale island beach resort connected to San Diego by a long bridge, authorities said.
The strange death came two days after Shacknai's 6-year-old son, Max, was critically injured and placed in a medically induced coma from what police said was reported as a fall from a staircase in the home, Coronado Police Chief Louis Scanlon said.
Land records show that Shacknai, 54, whose Scottsdale, Arizona-based company is maker of the acne treatment Solodyn and wrinkle-filler Restylane, purchased the 27-room landmark property known as the Spreckels Mansion in October 2010.
Shacknai was not present when authorities were called to his home on Monday morning, finding only the injured boy and his girlfriend at the residence.
Shacknai also was absent when his brother, Adam, a resident of a guest house on the property, found Nalepa hanging from her neck from a second-story balcony overlooking the courtyard, said Captain Tim Curran of the San Diego County Sheriff's Department homicide squad.
Adam Shacknai alerted authorities by calling emergency 911 and cut down the unclothed body, which then fell into the courtyard, Curran said at a news conference on Thursday.
Both brothers and Jonah Shacknai's ex-wife, Dina Shacknai, the mother of his 6-year-old son, were being questioned as witnesses in the investigation and were cooperating with detectives, Curran said.
Authorities declined to discuss Jonah Shacknai's current whereabouts. The Arizona Republic newspaper cited his former mother-in-law, Nancy Romano, as saying Jonah and Dina Shacknai had been with their son since he was hospitalized on Monday.
Curran said no one has been detained or was considered a suspect in the case, which investigators have not so far labeled as the result of foul play even though Nalepa was found with her hands tied behind her back and her feet also bound.
Curran said investigators have not ruled out suicide.
"Because of the unique and bizarre circumstances, it has yet to be determined whether this is a homicide or a suspicious death," Curran told reporters. "This is a very bizarre death. There is no doubt about it."
Court records show Jonah and Dina Shacknai, his second wife, had their divorce finalized in January of this year, though Romano told the
Arizona Republic
that her former son-in-law and Nalepa had been together for about two years.
Court records in Arizona show that Nalepa, who was herself divorced in February, had her maiden surname of Zahau legally restored in May.
Medicis issued a brief statement on the incident without giving details.
"The Medicis family is deeply saddened to learn of a tragic incident at a California property owned by Jonah Shacknai," the company said. "Our thoughts are with Jonah and his family and ask that the family's privacy be respected during this difficult period."
Shares of the company, which reported 2010 revenues of $700 million, tumbled by as much as 5 percent following news of the investigation.