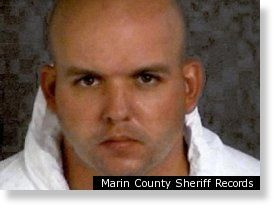 A Marin County jury convicted James Mitchell, heir to a San Francisco porn empire, of first-degree murder Tuesday for the beating death of his ex-girlfriend and mother of his child in Novato two years ago.
According to
SFGate
, the jury considered the case for less than two days before reaching their verdict, read on the two-year anniversary of his arrest:
It also convicted Mitchell, 29, of kidnapping, child endangerment, child abduction, domestic violence and stalking. He faces a potential sentence of life in prison.

The jury acquitted him of murder during a kidnapping, a special circumstance that would have made him ineligible for parole.
Authorities arrested Mitchell in 2009 just hours after he allegedly attacked Danielle Keller, 29, with a baseball bat. According to witnesses, their daughter, Samantha, cried as she watched the ordeal. Mitchell then fled the scene with Samantha in the car. It was her first birthday.
Mitchell is the son of the late Jim Mitchell and the nephew of Artie Mitchell, who together built the iconic Mitchell Brothers adult entertainment company (which includes the Mitchell Brothers O'Farrell theatre in San Francisco). Jim was convicted of killing Artie in Corte Madera in 1991 and subsequently served time for manslaughter in San Quentin prison.
According to Novato Patch
, Deputy District Attorney Charles Cacciatore hopes to make an example out of the case:
Cacciatore said the verdict reflects "the seriousness with which we treat domestic violence cases here in Marin County."

"We want to make sure the victims take steps to get out of violent relationships and know they will have the assistance of the Marin County courts when they make that decision," Cacciatore said.
Meanwhile, the
Marin Independent Journal reported
that Keller's mother was satisfied with Mitchell's conviction:
"Justice was served," Stevens said after the verdict, clutching a pouch of Keller's ashes and wearing her daughter's old baby ring.
On Monday, Stevens and Keller's best friend, Erica Menezes, scattered Keller's ashes into the sea by Ocean Beach.
According to SFGate
, the path by the beach was one of Keller's favorite places in San Francisco.