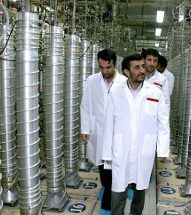 A recent Russian intelligence assessment warned that the "Stuxnet" computer worm that's embedded itself into Iran's Russian-built Bushehr nuclear plant could cause a "Chernobyl-like disaster" should the site be switched on.
The document was
obtained exclusively
by the Associated Press, which cited Dmitry Rogozin, Russia's envoy to NATO, as worrying that the Bushehr facility could end up like the Ukrainian nuclear site that experienced a nuclear disaster in 1986, rendering the city virtually uninhabitable.
The "Stuxnet" worm is malicious software code that makes nuclear centrifuges spin out of control. It targets computer control systems made by German industrial giant Siemens, commonly used to manage water supplies, oil rigs, power plants and other facilities.
Stuxnet is able to recognize a specific facility's control network and then destroy it, according to German computer security researcher Ralph Langner, who has been analyzing Stuxnet since it was discovered in June.
Were a device such as a nuclear reactor ever switched on and the operators were unable to turn it off, it could produce the fallout equivalent to a "small nuclear bomb," the Russian assessment warned, according to the AP.
Iran has denied that the worm was actually affecting the Bushehr facility, but admitted that it did make its way onto workers' laptops, the AP added.
To the contrary, Rogozin reportedly said that workers at Bushehr "saw on their screens that the systems were functioning normally, when in fact they were running out of control."
Cybersecurity
experts have warned
that the worm could affect even more than just nuclear centrifuges: critical industries worldwide, from water and power plants to auto manufacturers, also stand to lose big if their equipment were to begin operating out of control.
"The real-world implications of Stuxnet are beyond any threat we have seen in the past," Dean Turner, director of Symantec's Global Intelligence Network, told a US Senate panel last year.
The worm has been found lurking on Siemens systems in India, Indonesia, Pakistan and elsewhere, but the heaviest infiltration appears to be in Iran, according to software security researchers.
In a joint press conference Monday, German Chancellor Angela Merkel stood by Israeli Prime Minister Benjamin Netanyahu, declaring that Iran's nuclear program was "a threat to Israel and the whole world."
Iran has maintained that its nuclear program was to generate energy, not weapons.
With AFP.