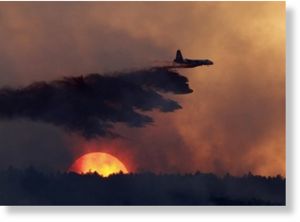 Loveland - Officials say the next 36 hours are pivotal for crews to make headway against a fire burning very dry trees and grass in steep terrain of northern Colorado foothills.
Incident team manager Jim Thomas says warm, dry weather is helping fuel the nearly 1,000-acre wildfire near Loveland, and crews are also expecting winds to pick up later Tuesday and into Wednesday.
More than 400 firefighters have been assigned to fight the fire. The team that led the fight against a wildfire that's now contained near Boulder has taken over.
Investigators say the latest fire was started Sunday by a homeowner burning vegetation. A decision on whether to file charges could come as early as Tuesday.